Joden Girl
Baubles, Bling, and Complementary Rings
Crafted over four decades apart, this unique duo of rings offer a harmonious blend of cool white gold and stark black onyx.  These rings have been a popular go-to choice for nearly 100 years.  The classic color combination of black and white is a style that appeals to a wide audience of jewelry lovers everywhere.  
Many of these simplistic beauties were made near the end of the Art Deco era in the 1930's.  This ladies ring is one such example.  With an artfully sculpted hourglass shape, the 10-karat white gold ring has an elegant allure.  The onyx center stone presents with a softly arched profile that takes up almost the entire top of the piece.  A narrow framework holds it in place with prongs located at 12, 3, 6 and 9:00 o'clock.
One tiny single-cut diamond is nestled within a diamond-shaped setting on top of the onyx stone.  Graceful lines pair with polished sophistication in this 1930's gem, priced at just $275.00.
It's handsome counterpart was crafted in the 1970's.  Designed for a larger hand, this ring is made from 18-karat white gold.  Polished to a pristine shine, the wide shank meets the center section at a perpendicular angle.  The middle of this ring is set with a curved black onyx.  It is the same shape as the onyx in the ladies ring, although this one is set in an east/west orientation.  
Flanking the onyx are two lines of diamonds.  Each one is set with four single-cut diamonds – these stones have a combined weight of .25 carat.  Adding a hint of sparkle to this otherwise stark ring, the diamonds are a much needed bright spot in this ring – it's available now for $950.00.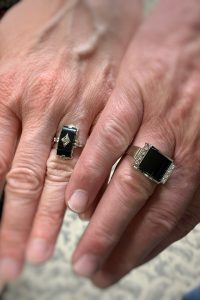 These two ring aren't wedding bands – and they don't match.  However, they sing together in perfect harmony.  If you and your sweetheart are looking for an outward symbol of your connection, this pair of rings is ideal!  They're available on our website – click on over and check them out. 
"You can go to a museum and look or come to us and touch."
Written by Carrie Martin
Photos by Dana Jerpe