Joden Girl
Baubles, Bling and Square Things
For more than 5000 years, people have enjoyed the competitive challenge of the checkerboard.  This classic board game as we know it is a battle between two players.  Skill and ingenuity are employed in an attempt to remove your opponents pieces from the board.  Arguably, the most iconic part of the game is the board itself.  Consisting of 64 squares (8 x 8), it is laid out in an alternating pattern of one dark and then one light.  The most common color palettes are black and white or black and red. 
Occasionally, this unique pattern is utilized in gemstones.  Artisans cut stones so that the crown and table resemble a checkerboard.  The facets reflect the light, increasing the sparkle and brilliance.  When properly executed, a checkerboard cut gem will display an incredible amount of surface luster.  Moving the stone back and forth will allow it to come to life before your eyes.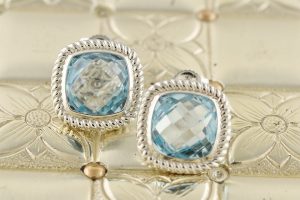 These 14 karat white gold earrings are a favorite of mine.  A perfectly matched pair of checkerboard cut blue topaz gems are bezel set in these classic stud-style earrings.  A decorative rope edge adds an additional design element that elevates these deceptively simple beauties to the next level.  They are a steal for just $400.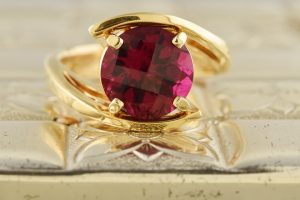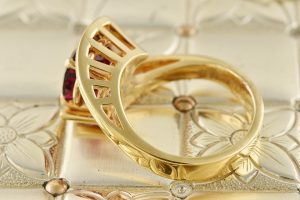 No diamonds are needed in this bold gemstone ring.  A gem fine rubelite sits center stage in this bypass ring.  The rich warm tone of the 18 karat yellow gold is the ideal complement to this hot pink stone.  Weighing 3.00 carats, this checkerboard charmer is moderately priced at $1,500.00.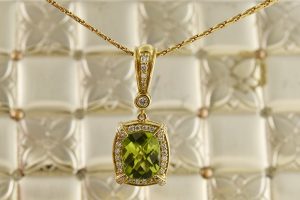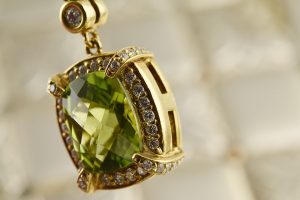 Signed "Charles Krypell", this reversible pendant highlights a delicious checker cut peridot in the center.  This gem is surrounded by a halo of round brilliant diamonds.  With a total weight of .58 carat, these 68 diamonds amp up the bling for just $2,250.00.
Peep the killer amethyst ring in the featured image above.  Set east/west fashion within an 18 karat yellow gold wide band, this ring slays at $980.00.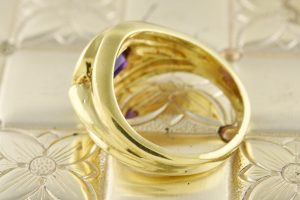 When vivid color pairs with chic design, the result is anything but boring.  If your jewelry game has become a bit mundane; if you're tired of humdrum and pining for something MORE…  visit our showroom at 144 South Broad Street, downtown Grove City or call us to purchase over the phone.  As always, we offer free shipping anywhere in the continental United States.  
"You can go to a museum and look, or come to us and touch."
Written by Carrie Martin
Photos by Dana Jerpe