Joden Girl
Baubles, Bling and Art Deco Things
The years between WWI and WWII were a time of great prosperity, and even earned a famous moniker…  the Roaring Twenties.  Aptly named, the era was noted by a feeling of exuberance that took the United States by storm.  Americans experienced a wave of wealth that was both welcome and unfamiliar.  It allowed them to splurge on luxury items such as radios, fashionable clothing, automobiles and even jewelry.  
If ever there was a golden time to be able to binge on jewels, the Art Deco years were certainly ideal.  While the exact beginning and ending of Art Deco cannot be pinpointed, most agree that the period lasted from about 1920-1935.  Undoubtedly the most influential period in jewelry history, the style of Art Deco has been replicated, copied and imitated more than any other.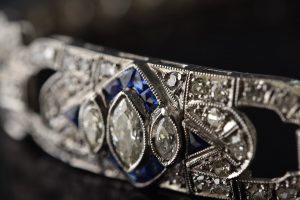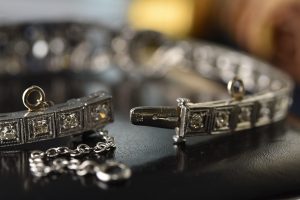 This beauty epitomizes all the fine points of the era.  Made entirely of platinum, this bracelet centers on a trio of open-culet marquise cut diamonds.  These three sparklers have a combined weight of approximately .50 carat.  Accenting this threesome are a series of bright blue synthetic sapphires (authentic to the period), creating a diamond shape that expertly draws the eye while adding just a touch of color.  An intricate pattern was achieved using artfully interlocking links.  Each of these links has been handset with round diamonds, eighty in all.  These diamonds have a combined total weight of 3.00 carats.  
The thing that I love most about this bracelet is the practicality of it.  That's right, I said it's practical.  Most bracelets from the Art Deco period are wider and quite extravagant, like this gem featured on our website: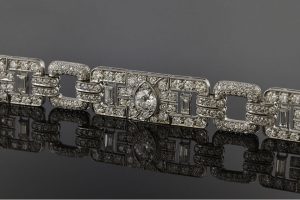 It's a special occasion piece.  Stunning, yet not exactly the kind of thing that you wear to the grocery store.  Definitely worth checking out.  But for now, let's get back to today's piece…  this little number is in pristine condition and is dainty enough to wear every day.  It pairs perfectly with your favorite pair of jeans and also works well for date night.  My second favorite part of this little bit of arm candy is the price – $5500.  It's rare to find an authentic Art Deco bracelet at an affordable price.  It's the perfect summer accessory!  
"You can go to a museum and look, or come to Joden and touch."
Written by Carrie Martin
Photos by Dana Jerpe