Joden Girl
Baubles, Bling, and Political Things
On this day – November 4th – in the year 1842, Mary Anne Todd said "I Do" to a young lawyer with political aspirations from Hardin County, Kentucky.  His name was Abraham Lincoln.  He would go on to be the first Republican President, and is credited with steering The United States through The Civil War, the most tumultuous time in the history of our country.
In 1861, upon winning the Presidential election, and in anticipation of the Inaugural Ball, President Lincoln commissioned a three piece seed pearl suite for his wife to wear to the ball.  The delicate demi-parure (pictured below) was created by Tiffany & Co.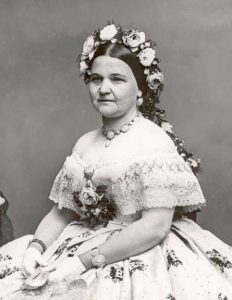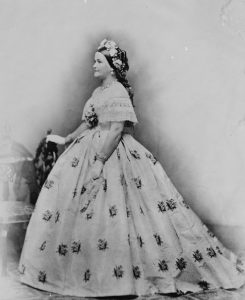 This style of jewelry had been popular since the early 1800's – making a crossover between the late Georgian and Early Victorian periods.  These jewels were often lacey in appearance, each one constructed from a Mother of Pearl base upon which natural seed pearls were sewn, with either pale horse hair or gut.  Many of these suites had multiple pieces and were sold as bridal gifts.
The bottom shelf of our Victorian case is home to several similar seed pearl creations, including one six-piece set in its original fitted box.  The suite contains one choker, two pair of pierced earrings, two small pins, and one large brooch.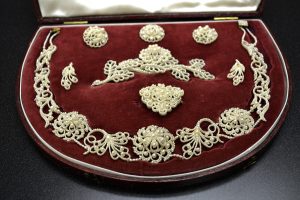 Each one was made in the manner detailed above with silver clasps, pin stems, and earring backs.  Each tiny pearl (measuring less than one millimeter each) has been painstakingly sewn into floral and leaf patterns.  The red leather case was specially crafted for these pieces and is marked inside the lid with a tiny crown and the following words:
The London Bullion Co, Ltd.
Jewellers
33 Haymarket
London S.W.1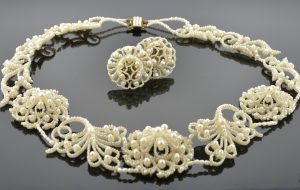 Being nearly 200 years old, it is in near perfect condition.  It's easy to see why our motto holds true…
"You can go to a museum and look, or you can come to us and touch."
Written by Carrie Martin
Photos courtesy of internetstones.com and Carla Leight