Joden Girl
Baubles, Bling and Golden Things
"The surprising marriage of jeweler skills and watchmaker expertise is what made
Carl F. Bucherer's creations unique from the beginning." 
These words, direct from the heritage section of the Carl F. Bucherer watch site perfectly describe the creations that have kept this Swiss firm in business for over 134 years.  Founded in 1888, the name Bucherer has became synonymous with time honored technique, expert heritage and a pioneering spirit.
In the 1920's, Carl's wife Mina joined the business as a buyer of fine colored gemstones…  a passion that she shared with her husband.  Together the couple raised two sons, both born and bred into the family enterprise.  One son was trained as a watch maker and the other as a goldsmith – the ideal pairing to complement both sides of the business.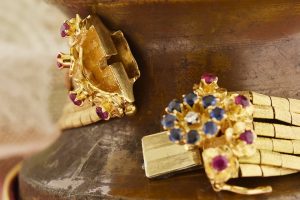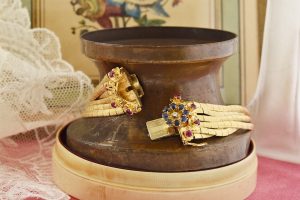 This sleek six-stranded bracelet is a recent addition to our estate department.  The style is classic.  In fact, we have two similar pieces in stock right now.  Similar – but not quite the same.  Crafted in the 1950's, this burnished bar link bracelet glides through your fingers like a fine silk scarf.  The feel is beyond luxurious.  Made entirely of 18-karat yellow gold, this 7.5 inch bracelet is well worth it's weight in gold.  Unlike the other two, this particular one has a couple of unique features including this gem-set hidden clasp.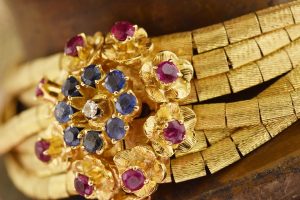 Divided right down the middle, this lovely closure showcases three different gemstones…  diamond, sapphire and ruby.  One single cut diamond, held in place by four prongs, marks the center and weighs approximately .02 carat.  Surrounding it is a halo of eight round blue sapphires that have a combined weight of approximately .50 carat.  A series of eight five-petaled florets encircle the sapphires, each one set with a bright red ruby.  These rubies have a total weight of .50 carat.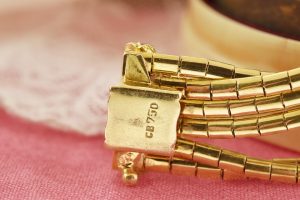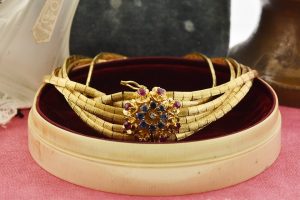 Clearly etched onto the back side of the box style clasp is the iconic hallmark for Carl Bucherer, "CB 750".  Each of the six strands measure 2.5 mm across, bringing the total width of the bracelet to 15 mm.  However, as you can see, the strands are loose and flow one over the other giving the piece sensuous movement.  The brushed finish applied to the front of each individual length adds another element of sophistication to this signed bracelet.  
A popular modern designer, Marco Bicego has revived this exemplary style, dubbing the collection "Cairo".  The line is opulent, offering a brand new five-stranded bracelet for $5,300.00.  In contrast, our estate bracelet, a signed Carl Bucherer original, is available now for just $3,000.00.  Stop by the store to see it for yourself.
"You can go to a museum and look, or come to us and touch."
Written by Carrie Martin
Photos by Dana Jerpe