Joden Girl
Baubles, Bling and the Latest Things
One of the most underrated periods in jewelry is the Retro era.  Customers drool over the intricate designs of the Edwardian and Art Deco years.  Victorian gold earrings are hot items along with a recent spike in Mid Century Modern pieces.  Requests for 1940's jewelry are few and far between. 
Encompassing the late 1930's and the 1940's, the Retro period coincided directly with World War II.  The war had a huge impact on the jewelry industry.  Platinum was scarce, and most gold was mixed with larger amounts of alloys to make it go farther.  This resulted in lower karat gold and a surge in the production and popularity of rose gold (copper was the primary alloy).  Eerily similar to the mindset of today, consumers in the Retro era sought financial stability by investing in precious metals and high quality gemstones as opposed to paper currency.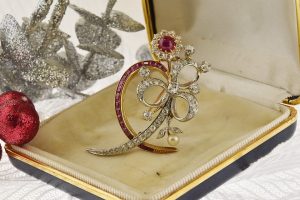 Today's trend toward conversion jewelry and re-imagining out-of-date styles is yet another commonality with the Retro years.  The war efforts continued to affect the availability of supplies forcing jewelry connoisseurs to get creative with whatever was at hand.  When diamonds became scarce, colored stones were a natural addition.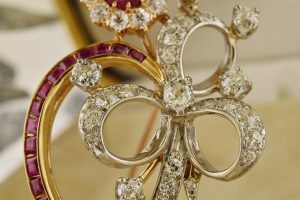 Tiffany and Co. was already a household name in the 1940's.  Occasionally they teamed up with other fine manufacturers to forge even more fabulous fashions.  One such partner was Weinman Brothers.  This firm was established in New York City in 1912 by David and Sam Weinman.  The collaborations of these two firms are rare, occasionally popping up in popular online marketplaces like 1st Dibbs.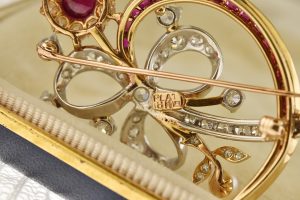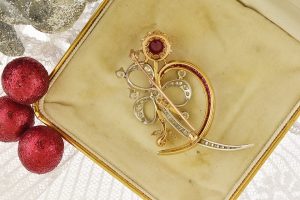 This stellar Retro brooch screams quality.  It's stylish and elegant with a great holiday feel about it.  And although it is NOT a Tiffany piece, it does feature three distinct hallmarks… including a crisp WB.  Reminiscent of ribbon curls, this festive brooch centers on an asymmetrical three-looped bow.  The platinum and 18-karat yellow gold bow is pierced by a singular floral spray.  Multiple setting techniques have been employed within this unique find including prong, bead and bright as well as channel setting.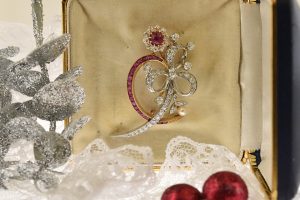 Nineteen square-cut rubies are finely set within one tail while a perfectly round cabochon ruby marks the center of the flower.  These twenty gems have a combined weight of approximately 3.85 carats.  There are forty-three diamonds – some Old European cuts, a few Modern European cuts and even one Old Mine Cut.  With a total weight of 1.75 carats, this unusual combination of diamond cuts could have been a re-imagined creation.  We can make conjectures, but this brooch isn't talking!  Meticulously made with the finest quality metals and gems, this signed piece is the latest arrival in our estate department and is available now for $4,500.00.
"You can go to a museum and look, or come to us and touch."
Written by Carrie Martin
Photos by Dana Jerpe