Joden Girl
Baubles, Bling and the Latest Things
From one elegant tip to the other, this ring is alive with an abundance of minute details…  each one adding another dimension to this lovely confection.  Constructed entirely of platinum near the end of the Art Deco era, this 1930's beauty is sculpted and refined.  It's elongated, but not in the typical navette shape – this unique charmer takes the form of a rectangle with the longest side following the line of the finger.  Each corner nips in like something took a bite out of it creating eight sides instead of just four.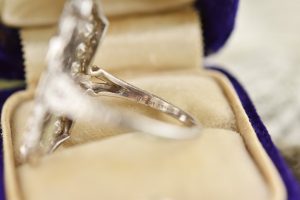 Mimicking the shape of those curved corners are a pair of arched lines – one on the top right side and the other on the bottom left.  These strong contours combine with a wide milgrain-edged border to form the perimeter of the pattern.  A series of three marquise shapes fill the center, each one set at a jaunty angle and stacked in a straight line.  Connecting each of these elements are thirteen horizontal bars, much like the lines on a piece of composition paper.  
Accenting the tips of the marquises are four bezel set round diamonds.  There are a total of twenty-three diamonds decorating this vintage ring – they offer a combined weight of .90 carat that dazzle from every angle.  The shoulders of the ring don't have any diamonds, but are no less decorative than the top.  Taking the form of an elongated kite, each side features tiny beaded edges and lovely engraved patterns.  A small opening in the center copies the exact outline and completes the look.  Detail after detail, this ring is a true stunner.  This fresh find is available on our website for just $1,375.00! 
"You can go to a museum and look, or come to us and touch."
Written by Carrie Martin
Photos by Dana Jerpe