Joden Girl
Baubles, Bling, and The Latest Things
Everything's better with a bow, right?  Dana and I are all tied up over this latest diamond studded edition to our estate department.  Bridging the gap between the end of the Victorian era and the beginning of the Edwardian period, this authentic and original bracelet is practically perfect in every way.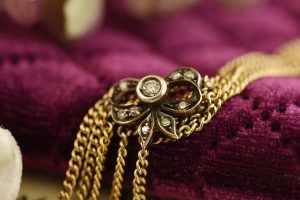 Five individual pieces of 14 karat yellow gold curb-link chain measuring seven inches each comprise the base of the bracelet.  These fine chains are not soldered together, they're loose allowing for a bit of movement.  Permanently affixed to the center of the bracelet is one of three silver bows.  The other two are soldered to the left and right of the center at evenly spaced intervals.  Made of 800 silver (as hallmarked on the back of the clasp), these tiny three-dimensional bows are unusually shaped with large loops and very short tails.  There are exactly eight diamonds in each for a total of twenty-four stones that have a combined weight of approximately .50 carat.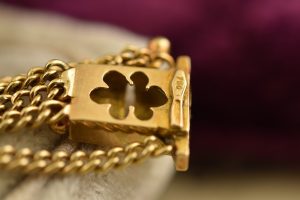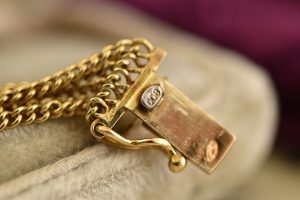 Offering turn-of-the-century styling, the bracelet is delicate and timeless.  Expertly crafted, it's absolutely charming and perfect for daily wear.   Shown on the arm, the physical size and length are suitable for most wrists.  It's in excellent wearable condition.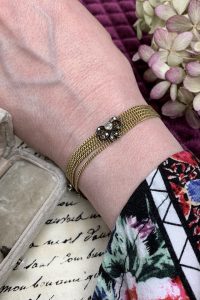 Bows have long been a symbol of femininity, and these tiny ribbons bring a touch of soft, curvaceous charm to an otherwise simple bracelet.  Priced at just $2,250.00, it's the ideal way to add the warmth of yellow gold to your jewelry wardrobe.  Drop by our website to make it yours today.
Written by Carrie Martin
Photos by Dana Jerpe