Joden Girl
Baubles, Bling, and The Latest Things
I am completely smitten with this week's find.  I stumbled on it completely by accident and haven't been able to get it out of my mind since.  I am not usually a trendy kind of girl…  I lean more toward unique vintage finds.  But I am a sucker for a sparkly diamond ring – and this ring (currently measuring a finger size 4.5) fits my hand like a glove.  In fact, it's glittering on my finger as I strike each key on my laptop.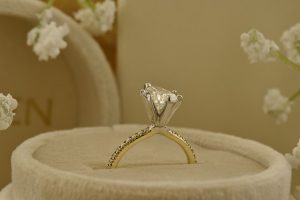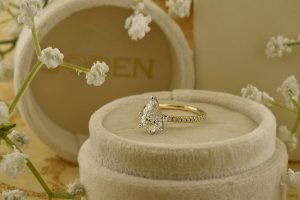 This modern beauty is made from 14 karat yellow gold – my metal choice of the moment.  It has the tiniest little band, carefully set with thirty-four round brilliant diamonds that go three-quarters of the way around the shank.  Although I am usually a fan of eternity bands, I can understand the practicality of leaving a space in the shank for sizing the ring.  These near colorless stones have a combined weight of .20 carat and an average clarity grade of VS2-SI1.  Inscribed inside the band is just one word… "Sylvie".  This modern manufacturer is known for timeless feminine designs with everlasting style.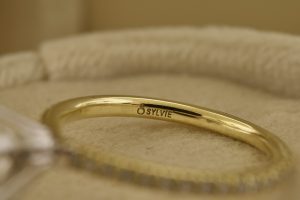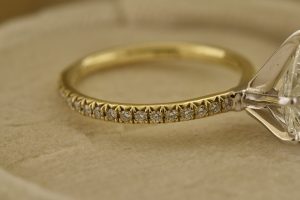 Rising tall and proud from the center of this designer darling is a stunner of a stone.  This pear-shaped brilliant beauty weighs exactly 1.10 carat, but looks much larger.  This diamond shows its weight and shines from every angle.  Set with six prongs, this pear has a color grade of I-J and a clarity grade of SI1-2.  The ring has been evaluated by the International Gemological Institute of America.  This detailed report offers an in-depth assessment of the ring complete with a full-color photograph, diamond plot-chart and a retail replacement value.  The valuation came in at $8,555.00.  We are offering it on our site for just $5,800.00!
This ring checks all the boxes of the current trends in diamond engagement rings…
It's yellow gold.
The band is extremely narrow and dainty, micro-set with a tiny row of diamonds.
The center diamond is a fancy cut (pear and oval are most popular).
Combine the desirability of the ring with the absolutely incredible pricing, and this ring simply WILL NOT LAST.  Do not sleep on this one.  Call us now to make it yours (800) 747-7552!
"You can go to a museum and look, or come to and touch."
Written by Carrie Martin
Photos by Dana Jerpe