Joden Girl
Baubles, Bling and Smart Things
Most people think that jewelry stores are all about making sales.  And in many cases, that's true.  However, at Joden, our focus is always on buying.  For nearly fifty years, we have combed through millions of pieces – always seeking the finest jewelry for the best price.  More often than not, that journey has led our experts to the pre-owned market.  The reason for that is simple…  antique and estate jewelry combines the best of both worlds – a higher quality (often handmade) product offered at a better price.  
In case you were wondering, to be qualified as antique – jewelry must be over one hundred years old.  The term "estate" simply refers to any item that is previously owned.  These goods can be purchased at a better price than newly manufactured pieces.  At Joden, we believe in passing those savings on to our customers.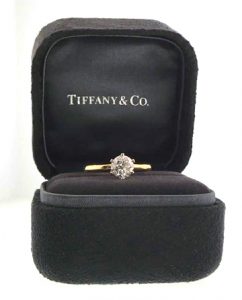 The advantages of vintage jewelry don't end with the price…  there are also other benefits.  Most antique pieces were handmade by expert craftsmen – not mass produced by machines.  Old world techniques like piercing, thrumming, granulation, and millegraining (just to name a few) were employed to create one-of-a-kind masterpieces.  This uniqueness allows jewelry lovers to develop their personal style and to fill their jewelry boxes with things that no one else has.  
At Joden, we have another unique aspect to our inventory.  We own it.  Every piece.  It's not on consignment or memorandum.  This is yet another way to ensure that we are able to offer our customers the best possible price. 
Occasionally, we purchase signed pieces – Cartier, Rolex, Giuliano, Tiffany…  like the little beauty featured here.  This classic 18 karat yellow gold and platinum engagement ring is every girls dream.  With a dazzling 1.00 carat diamond center, this ring nearly guarantees a "Yes!" response.  Pricing for a brand new version of this ring begins at $12,400…  at Joden, we are offering this one for less than $10,000 – complete with the little blue box. 
For nearly half a century, the family at Joden has taken pride in bringing our customers the best of the best.  Our motto continues to hold true –
"You can go to a museum and look, or you can come to Joden and touch."
Writing and Photos by Carrie Martin