Joden Girl
Baubles, Bling, and Sentimental Things
I am completely enamored with this Victorian bracelet…  from end to end, it is filled with enchanting details.  The top and side edges are deeply etched with hand engraved patterns that feature a repetitive leaf-like design.  The center is accented with a small square stone of the palest blue surrounded by a carved quatrefoil flower.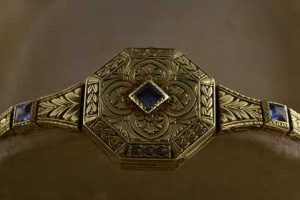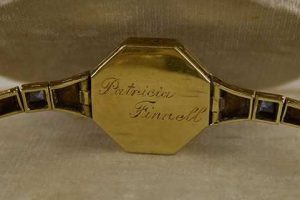 And the back portion reveals the most significant engraving of all, the name of the owner…  "Patricia Finnell".  As soon as I discovered her name, I wanted to know all about her.  Alas, no matter how many times or ways I googled her name, Patricia Finnell remains a mystery to me.  Closer inspection unveiled another enigma, the center octagon is actually a locket!  
Lockets peaked in popularity during the mid-1800s after Prince Albert gifted Queen Victoria with one at the birth of their first child.  He presented her with a similar charm at each new birth, resulting in a lovely bracelet with nine brightly colored enamel heart lockets…  each one featured a delicate curl of hair as well as the name and birth date of the child.  So romantic!  As such, locket jewelry became the "must have" accessory of the Victorian era.  
Look what (or should I say who!) I discovered inside our bracelet…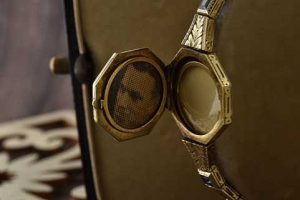 This handsome devil must be our Patricia's sweetheart, and most likely the one who presented her with this sentimental love token.  Perhaps he was going off to war and wanted to leave her with a memento in case he didn't return.  Or perhaps theirs was a secret love and only Patricia would know that his picture was hidden inside.  I can't decide if I want to know the answers or if it's more fun to dream up tragically romantic scenarios!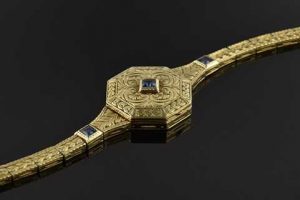 Perchance someone out there can shed some light on this puzzle, or maybe it's destined to remain a secret with the only clue being this bracelet.  My husband would say that I've read one too many romance novels, but I can't help but be infatuated with this 150-year-old love story.  If you, too, are enchanted, you could become the caretaker of Patricia and her locket bracelet for just $1,450.  
"You can go to a museum and look, or come to Joden and touch."
Written by Carrie Martin
Photos by Dana Jerpe