Joden Girl
Baubles, Bling and this Amethyst Ring
For hundreds, maybe even thousands of years, Kings and Queens have draped themselves in robes and jewels of the richest purple tones.  They favored the vibrant violet shades of amethyst.  This stunning stone is often chosen for bishop's rings as well.  Quite an extravagant history for this quartz classic.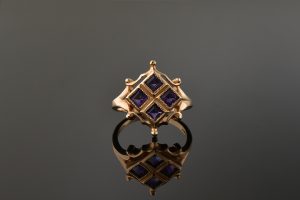 This Victorian vision is a favorite here at Joden.  It packs a punch without breaking the bank.  Made from a rosy 14 karat gold, the setting itself features a unique design of three points at both the top and bottom.  Bearing a slight resemblance to a tiny crown, the ring centers on a cluster of four square stones.  These step cut amethysts are nestled deep inside milgrain bordered bezels; the entire quad has been turned on its edge to resemble a diamond shape.  
Making a bold statement, this ring settles comfortably at the base of the finger.  It needs no additional ornamentation.  The pop of purple at the heart of the ring paired with the simple yet effective gold framing makes this ring a perfect pick.  It's a new arrival on our website – priced at just $225!  Truly a steal of a deal…  14 karat gold and four genuine amethysts at an affordable price.  Kick off your holiday shopping with this gem from Joden.  
"Go to our site and look, then come to Joden and touch."
Written by Carrie Martin
Photos by Dana Jerpe