Joden Girl
Baubles, Bling, and a Sapphire Ring
With the end of August on the horizon, I've got a case of the blues.  Sapphire blues…  it's the birthstone for September.  It also happens to be my favorite colored stone – and this ring is no exception.  A platinum mounting and nearly a carat of diamonds are the perfect setting for this stunning blue gem.  The depth of color in this sapphire is unbelievable…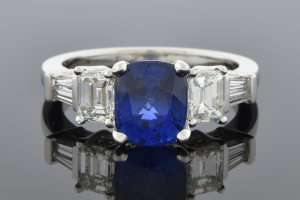 Just look at that blazing blue bauble!  It's flanked by a matched pair of emerald cut diamonds, giving the piece a three-stone look at first glance…  closer inspection will reveal four tapered baguette diamonds nestled into the shoulders of the ring.  
Another turn of this beauty unveils the delicate edge detail…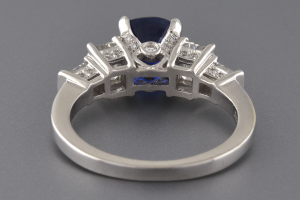 Can you see the tiny round diamonds set into every nook and cranny of those sleek platinum edges?  It dazzles from every angle – and it's designed for daily wear.  When you have a ring like this, you want to wear it all the time!  Sapphire is almost as hard as a diamond, and platinum is the most durable of the precious metals.  Check it out on our site now, then some to Joden and try it for yourself.  I can promise that you'll have a case of the blues…  just like me.
Written by Carrie Martin
Photos by Shelly Isacco and Carrie Martin