Joden Girl
Baubles, Bling and a Three Stone Ring
The aura of mystery that surrounds the number three is vast and varied.  The ancient Greek philosopher Pythagoras believed the meaning of numbers to be quite significant.  Representing harmony, wisdom and understanding, he proclaimed three to be the perfect number.  Pythagoras dubbed it the number of time in more ways than one…
Past, Present and Future
Birth, Life and Death
Beginning, Middle and End
The perfect balance achieved by the number three has been beloved by jewelers for centuries often manifesting itself in the form of a three-stone ring.  This week, we have an exceptional example.  
Painstakingly handcrafted from platinum, this Art Deco beauty is overflowing with intricate details.  Shown in profile, the shoulder of the ring showcases everything that early 20th century jewelry is known for.  There are hand-pierced openings in the shape of tiny leaves and elongated paisleys.  Each one is further accented by beaded milgrain edges and deeply etched engraving.  Nestled among this majesty are six single-cut diamonds that have a total weight of .11 carat.  The artistry has no beginning, no middle and no end.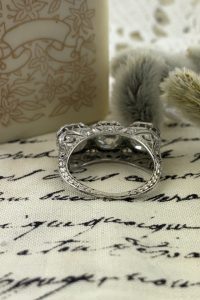 Every single spec of the ring is decorated.  Not one edge has been neglected.  The view from the top is simpler but no less stunning.  A trio of octagonal-shaped settings span the finger, each one set with a dazzling diamond.  The center stone weighs approximately 1.24 carats while the outer two diamonds have a combined weight of 2.14 carats.  Imagine it, if you will… not one, not two – but three one carat diamonds on your hand!   These diamonds have an average color grade of H-I and an average clarity grade of VS1-2.  An epic ring – there is one stone for the past, one for the present and one for the future.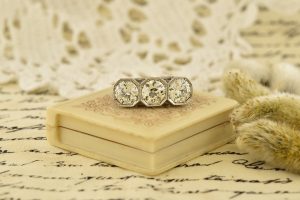 Pythagoras was right.  Three IS the perfect number and this ring is the proof.  Certified by the International Gemological Institute of America, this ring is valued at $30,165.00.  We are offering it for just $19,800.00 – a savings of over $10,365.00.  Don't miss your chance to have this triple threat on your hand…  hop on over to our website and make it yours now.
Written by Carrie Martin
Photos by Dana Jerpe