Joden Girl
Baubles, Bling and a Three Stone Ring
This beauty caught my eye instantly…  it checks ALOT of boxes for me.  I love the petite size of the ring, it has just the right amount of presence on the hand.  The flat-sided profile lends itself to stacking with another band or two, however, it definitely packs enough punch to stand on its own. 
Made entirely of platinum, it features classic styling from the mid-Edwardian period, circa 1910. Viewed from the edge, intricate filigree settings nestle a triple threat of gemstone bling.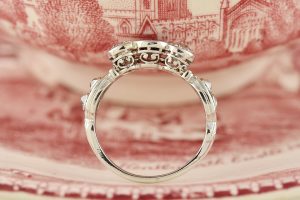 Those lovely curlicues encircle the tiny crown-like structure and lift it off the finger, allowing light to pass through.  A luscious red ruby sits center stage.  This old cut stone weighs approximately .65 carat and is flanked by a matched pair of scintillating European cut diamonds.  These two diamonds have a combined weight of .60 carat.  The shank of the ring comes together on the ends of this trio, creating a tight twist.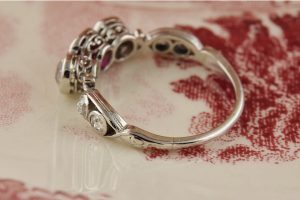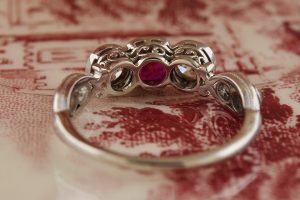 Cascading down the shoulder are four Old Mine Cut diamonds that are bezel set within the outer edges of the ring.  Like peas in a pod, the combined weight of these four diamonds is .25 carat.  Just a slight wave of the fingers produces spectacular sparkle in this early 20th century charmer.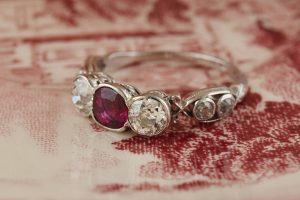 At over one hundred years old, this ring is authentic and original in every way.  The overall condition of the piece is quite good, and would be an ideal non-traditional engagement ring or perhaps a bit of bling for the right hand.  The symbolism of a three-stone ring is legendary and is often referred to as a past, present and future ring.  Occasionally, this is taken one step further and the power of three is interpreted as one stone for friendship, one for love and the last for fidelity.  Bring a bit of meaning to your story with this Edwardian gem for just $1,850.00.
"You can go to a museum and look or come to us and touch."
Written by Carrie Martin
Photos by Dana Jerpe