Joden Girl
Baubles, Bling and Three Deco Rings
When it come to the number three there is much myth and mystique that surrounds this divine digit.  Most of the hype revolves around religious connotations…  the number is used 467 times in the Bible.  It also signifies the holy trinity, perfection and completeness.  I cannot think of any words more accurate to describe these rings than those….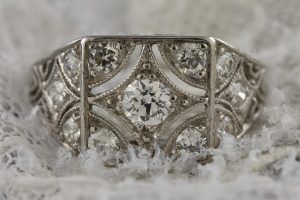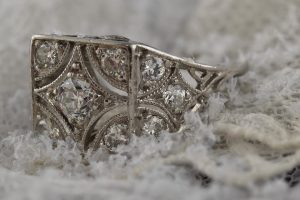 This late Art Deco stunner dates back to the 1930's.  A series of eleven European cut diamonds decorate each and every angle of this square-shaped gem.  Handmade with 1.00 carat of sparkling bling, delicate beaded edges and fine pierced filigree – this platinum piece is tough to beat.  Priced at $3,500, you would be hard-pressed to find a ring in better condition that also offers so much visual appeal.  It's a treat for the eyes, no doubt.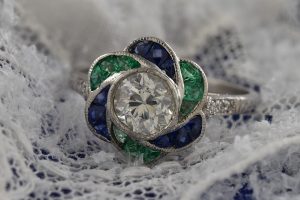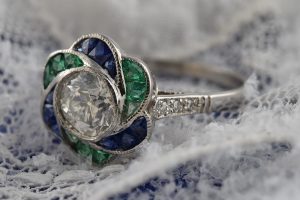 This botanical beauty is my favorite of the threesome.  If you're a regular reader, you know that I am a sucker for jewels that rock that flower vibe.  So, you can imagine my excitement when I discovered this multi-colored blossom.  A .60 carat Old European Cut diamond winks from a scalloped halo of alternating French cut emeralds and sapphires.  It's made entirely of platinum – adding physical strength and durability to its delicate appearance.  This ring sits flawlessly on my right hand, but would also make an unconventional engagement ring.  Moderately priced at $2,380, this ring will not disappoint.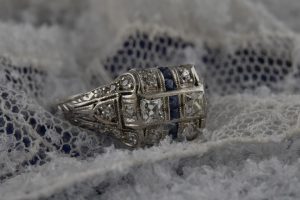 Closing out the grouping is this little sparkler.  Made from a combination of platinum and 18 karat white gold, this ring speaks softly with quiet beauty.  Lightly engraved patterns on the shoulders pair with French and single cut diamonds to create a superb setting for the singular stripe of blue sapphires filing down the center of the ring.  Priced at $1,650 – this ring may not knock your socks off at first glance, but upon closer inspection…  the charm of the subtle details will have you falling in love a little more every day.  
At Joden, this trio is just the beginning.  The eclectic and extensive inventory can only be outdone by the outstanding assistance and knowledge of our staff.  We pride ourselves on providing unmatched customer service to every client we meet. Check us out for yourself, you won't be disappointed.
"You can go to a museum and look, or come to Joden and touch."
Written by Carrie Martin
Photos by Dana Jerpe