Joden Girl
Baubles, Bling and Stackable Things
If I've said it once, I've said it a hundred times…  I am a sucker for unique wedding bands.  Thin or thick, plain or with diamonds, vintage or modern – it's almost impossible to pick a favorite.  Almost.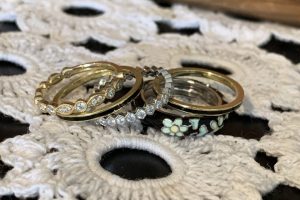 In this eclectic assortment, there is a little bit of everything.  Each ring can be worn on its own, but what a powerhouse when you stack them tall!  There are three modern bands, and two estate.  Can you guess which is which?  If you have a hunch that the matched pair are vintage, you're spot on!  These beauties are made from 18 karat yellow gold with an endless channel of black enamel, priced at $800.00 for both.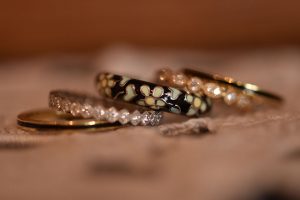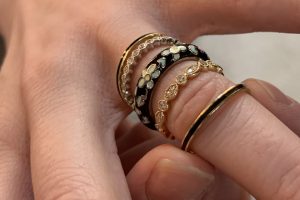 Two distinctive diamond pieces add sparkle and brilliance.  First, is an 18 karat white gold gem made by Beverley K.  The unusual honeycomb style setting features a series of 28 round brilliant diamonds that have a combined weight of .63 carat.  This eternal enchantress packs a punch for just $1,750.00.  Next is a 14 karat yellow gold stunner.  With diamonds on the top half, set in an alternating framework of both marquise and round shapes, this brand new bauble offers an antique appeal.  It's available now for $1,100.00.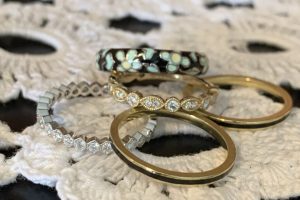 Last but definitely not least, if you hadn't already guessed, is my personal favorite.  Can we talk about that enameled daisy band?  14 karat white gold is the ideal base for this multicolored marvel.  Pale yellow centers surrounded by white petals and mint green leaves pop on a black background.  It's a botanical masterpiece – priced to sell at just $675.00.
As I mentioned before, each of these bands can be worn alone, but the combination is unbeatable.  Perhaps one or more of them has caught your eye.  Call us at 1-800-747-7552 for ownership possibilities.  
Written by Carrie Martin
Photos by Dana Jerpe