Joden Girl
Baubles, Bling, and Estate Rings
The "Tiffany & Co." name has been synonymous with premium quality jewelry for more than 180 years; 182 years to be exact.  That's decades longer than other iconic brands like Cartier, Boucheron, and Van Cleef.  There is no question that receiving the exclusive blue box elicits happiness, even before the box is open.  Untying the white satin bow and cracking the lid open is a joyful moment that you just have to experience.  Whether you're a lover of pristine new gems or perhaps you crave those vintage estate pieces, Tiffany & Co. is worth every penny.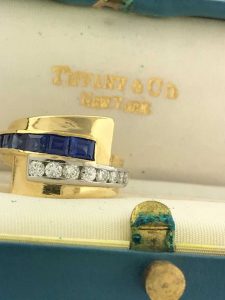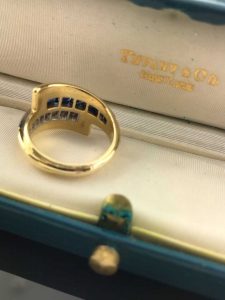 This legendary brand has an uncanny ability to find new markets for their unique yet classic style.  Maintaining the elegant feel of each Tiffany jewel has been essential in appealing to audiences of all ages.  Like this stellar bypass ring, for example.  Crafted from a bright 18 karat yellow gold with a cool platinum channel, further enhanced with high white diamonds and electric blue sapphires, the superior quality of this ring will not be denied.  In addition to the intrinsic value of the rocks and metal that make this ring is the value added by it's enduring style and long lasting wear-ability.  
The market for fine, high-end jewelry remains strong.  Signed pieces from top designers continue to appreciate.  The level of craftsmanship and the exceptional materials used have produced stand-out jewelry that is far more desirable than any "run of the mill" item sold at the mall.  
The sapphire and diamond bauble shown here is available at Joden for just $2800.00.  This ring is as durable as it is beautiful.  Wear it every single day; whether it be on your ring finger, or if you change it up by sporting it on an index or middle finger.  Just wear it.  As always…
You can go to a museum and look, or come to us and touch.
Like us on Facebook, follow us on Instagram and never miss one single delicious thing!
Written by Carrie Martin
Photos by Dana Jerpe