Joden Girl
Baubles, Bling, and a Bow Fling
Recently, I introduced you to the idea of converting your unworn jewelry into something fabulous…  something you'll find yourself reaching for time after time.  One of my favorite examples of up-cycling jewels and gems is this bow pin necklace –
Once it was a little brooch, laying in a box…  not being worn.  Just look at it now!  Who wouldn't want to own this?  At Joden, we have an entire collection of conversion jewelry – and it's been flying out the door.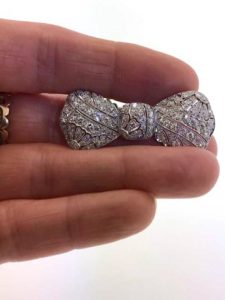 So…  when I stumbled across this little beauty, you can imagine my thoughts!  First – just look at details –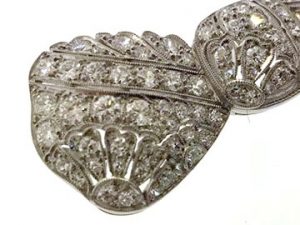 It's a daisy petal pattern!  And we all know how I feel about daisies.  Love love love!  Just look at those diamond encrusted petals.  Each element is incredible – and it's entirely constructed from platinum.  Set into that stunning filigree are 98 diamonds with a combined weight of 1.75 carats.  Beaded millegrain lines and soft scalloped edges complete the look.  Those Edwardians sure knew how to do things right. 
As soon as I saw this piece, I asked Joe about it.  He and I had the same idea – it has to be a necklace.  Made in a bow-tie style shape, it will be adorable nestled into the hollow at the base of the throat.  And so…  this brooch is hanging out in our state of the art shop, accompanied by a little platinum chain.  Our expert craftsman will breathe new life into it…  stay tuned for the grand unveiling!
"You can go to a museum and look, or come to Joden and touch."
Writing & Photos by Carrie Martin