Joden Girl
Baubles, Bling and Quality Things
At a glance, you might think this ring is ordinary…  just another halo-style ring.  Perhaps you would even dismiss it – it's not for you.  You often choose jewelry that is extraordinary and unique.  You're drawn to the uncommon and different; what could this typical piece possibly offer to a girl like you?  
The short answer is a lot.  This deceptively simple ring is SO much more than meets the eye…  it's top-notch on every level.  The metal isn't 14-karat or even 18-karat white gold…  it's platinum.  The density of this naturally occurring white metal ensures the longevity of the ring.  It is also resistant to tarnishing.  Unlike white gold, platinum never needs to be rhodium-plated (or "dipped"), but can be restored to a beautiful shine purely by polishing it.  
Shown from behind, you can see that the ring is lovely from every angle, even the back features an appealing filigree pattern.  These sculpted openings are not only decorative, but also serve as clean-out holes for the gemstones.  To maintain the sparkle of a gem, you have to keep it clean.  
The shoulders of the ring arch gently, creating the ideal angle for the center stone.  Fifty-five round brilliant diamonds are prong-set in this modern marvel.  They are perfectly matched in size and quality, a detail that might seem small but has an enormous impact on the complete presentation.  With a combined weight of .64 carat, these diamonds have an average color grade of D-E and an average clarity grade of VS 1-2.
A 2.03 carat unheated pear-shape pink sapphire is the crowning glory.  Accompanied by a certificate from the Gemological Institute of America, this gem is a rare find.  The medium purplish-pink hue of the stone was not enhanced or treated, but is actually completely natural.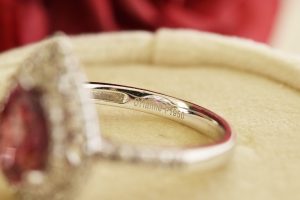 A peek inside the shank reveals the designer…  Orianne.  Located in Los Angeles, this third-generation jeweler spent her childhood learning from her father and grandfather.  Inspired by her own life experience, Orianne believes that every woman deserves quality jewelry that was made to last.  
"Orianne creates pieces simple enough to let you shine, while still serving as an accent for your daily adventures and aspirations – because classic never goes out of style."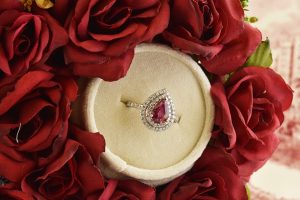 Evaluated by the American International Gemologists, this ring has an estimated retail value of $12,995.00.  At Joden, we're offering this spectacular estate piece for just $4,500.00…  a deal that is just too good to pass up.
"You can go to a museum and look, or come to us and touch."
Written by Carrie Martin
Photos by Dana Jerpe