Joden Girl
Baubles and Bling with Unbelievable Pricing
Ice, ice baby…  the cool and colorless diamond in the center of this ring reminds me of a perfectly symmetrical cube of ice.  Weighing 1.01 carats, this square emerald cut diamond is laboratory certified as F-G in color.  A diamond that is colorless is much more rare than one with body color.  
Emerald cut is one of my absolute favorite shapes for a diamond.  Only the finest stones are cut into this unique shape; this diamond certainly qualifies.  Not only is color of the stone bright white, but the clarity grade is also stellar – hitting the charts at VS2-SI1.  The crisp clean lines are classic and refined.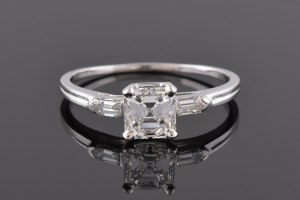 Constructed from platinum, the mounting has a delicate appeal with a graceful silhouette.  Flanking the center stone are a perfectly matched pair of bullet cut diamonds.  These two stones have a combined weight of .20 carat.  The unusual cut resembles a small arrow – each one pointing down the shank of the ring.  A slight groove has been etched into the band at the base of each bullet, adding a very subtle texture to the ring.  
Only a highly skilled craftsman can achieve this level of beauty in a ring that is so simplistic in design.  It's no surprise to discover the "Tiffany and Co." hallmark inside this austere engagement ring.  Having been on the Joden site for quite awhile, we decided that this ring is often overlooked and most definitely under appreciated.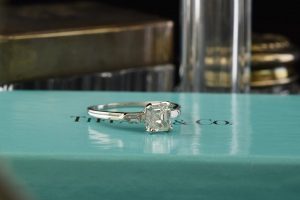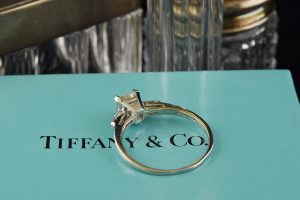 If you're a regular reader, then you know all about our Pick of the Week pieces.  If you're new to the blog, then you will be excited to discover that this unique division of our blog is all about highlighting pieces like this ring.  We shine a light on a fantastic piece that has been in our inventory for longer than it should.  Certified by the International Gemological Institute of America, this ring is valued at $11,245.00.  We have had it listed for just $9,500.00.  As a chosen Pick of the Week, it's now available for just $6,700.00!  That's a savings of nearly 30 percent!  Jump on over to our website to take advantage of this limited time offer.  ♦
"You can go to a museum and look, or come to us and touch."
Written by Carrie Martin
Photos by Dana Jerpe and Shelly Isacco