Joden Girl
Baubles, Bling, and A Collector's Things
This photo features two of Joe's favorite things…  a killer opal ring from his special box as well as a tattered copy of "Think and Grow Rich" by Napoleon Hill.  The book is an old friend – one that Joe has recommended to many people for the secret held inside.  The ring is a new find containing a phenomenal black opal – also beloved for the secret it holds inside.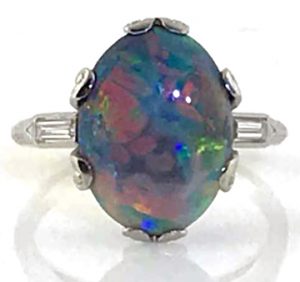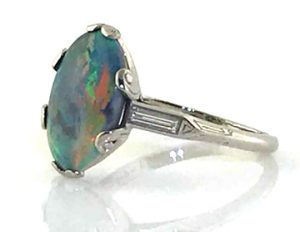 It has been dubbed black opal (the rarest color of this unique stone), but the rainbow shown here is anything BUT black…  that term actually only relates to the body color of the stone.  The darkness of the base allows the fire to really shine.  Those colors, or fire, are caused by microscopic silica spheres in the internal structure.  As light passes through the opal, it bounces off the silica, creating a dazzling effect.  Based on the play of color shown in this stone, it is most likely Lightning Ridge Opal, named for the spot in New South Wales where these gems are mined.  
This iridescent beauty is nestled into an Art Deco platinum ring from the 1920's.  A narrow pair of baguette diamonds complete the classic three stone look, however, the opal is the real star here.  This is one you don't want to miss…  come to Joden and discover it for yourself.  
"You can go to a museum and look, or come to Joden and touch."
Ownership Possibilities Available
Written by Carrie Martin
Photos by Carrie Martin