Joden Girl
Baubles and Bling with Unbelievable Pricing
At Joden, we have a bit of everything…  antique, estate, and modern.  You may be wondering what the difference is between each of these categories.  For a piece of jewelry to be considered "antique", it has to be over one hundred years old.  Modern jewelry is pristine and new – either hand-crafted in our expert shop or purchased direct from  the manufacturer.  Estate jewelry is everything in between…  another way to describe it would be "pre-owned".  It can be a bit confusing – but we're here to answer all your questions.  
Much of our inventory at Joden is estate – filled with everything from Art Deco, Retro and Mid-Century Modern to pre-owned beauties priced to sell.  That's what we have today…  a unique find at a price you can't resist.  Allow me to introduce you to the "Pick of the Week"!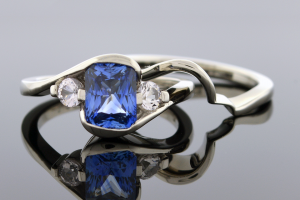 Everything about this bridal set is non-traditional and yet classic at the same time.  Both the engagement ring and contoured wedding band are crafted from a silvery white metal that doesn't tarnish and never needs to be rhodium plated.  You are probably thinking platinum, however these beauties are made from palladium!  
Next, let's talk about those gemstones!  The center is an octagonal modified brilliant blue sapphire.  This subtle stunner packs quite a punch.  Certified by the Gemological Institute of America, the sapphire is unheated – a rare quality that greatly increases the value of this cerulean stone.  In the United States, diamond is widely accepted as THE engagement stone of choice, however, in the United Kingdom…  sapphire is the coveted favorite.  This particular stone weighs 1.44 carats and brings an element of unexpected allure to this bridal set.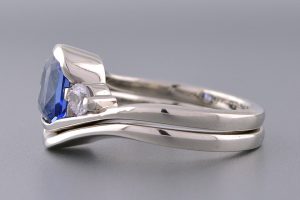 Another unique anomaly about this ring are those side stones.  Due to their vibrant colorless nature, you're probably guessing that they're diamonds.  However, you would be mistaken.  This matched pair of sparklers are actually white sapphires!  I adore each and every uncommon element of these rings.  Originally priced at $6,300 – our Pick of the Week is now available for only $3,750.00!!!  If you're in the market for an exclusive engagement ring for your one-and-only…  this is it!  
"Go to our site and look, then come to Joden and touch."
Written by Carrie Martin
Photos by Dana Jerpe and Shelly Isacco