Joden Girl
Baubles, Bling and Knotty Things
Tomorrow is Sweetest Day – a holiday that has been celebrated for nearly 100 years with the giving of candies and small gifts to the ones that you love…  and not just your significant other, but your family and friends too!  If this special day somehow slipped your mind, don't worry…  at Joden, we've got it all tied up.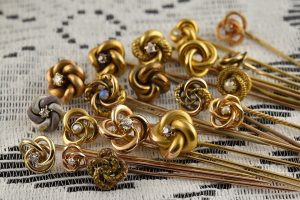 Love knots have been a treasured theme of jewelers and artisans for hundreds of years.  These small yet intimately symbolic beauties communicate so much more than words can say.  Gold wires, woven together in a series of loops convey an inseparable and unbreakable commitment.  Here we have a mash-up of every kind…  stunning repoussé gold work, soft satin finishes, multi-colored enamels, delicate seed pearls, twinkling diamonds and one tiny opal (my personal favorite).  Stick pins are unusual in that they are unisex.  Men pin them to lapels and weave them through neckties for a statement look while the ladies seem to prefer to wear them as charms or tiny pendants.  If you're not a pin wearer, perhaps consider converting one or more of these love knots into a prize of your very own.  Pricing begins at $90.00.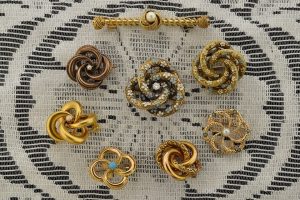 These little enchantresses are just a bit bigger than a stickpin.  Each one offers a charm all its own.  Victorian beauty comes to life, from small and simple to elaborately enhanced; carefully intertwined into all of them is the same message of love and unity.  I do have a favorite…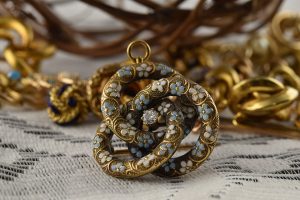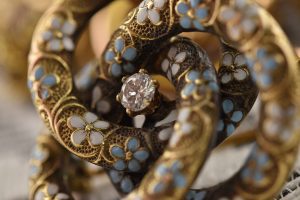 Blue and white enameled forget-me-nots vine across the surface of each of the three loops that are wreathed together, adding another emblematic element to the already figurative love knot.  One small diamond winks from the center, adding the tiniest bit of sparkle.  The back of the brooch features a foldover bail, allowing this beauty to be worn on a chain.  Make it yours for just $725.00.
If you're looking for something special, look no further.  Our cases are overflowing with vintage finds.  For Sweetest Day or any old day…  the answer is always Joden.  
Written by Carrie Martin
Photos by Dana Jerpe