Joden Girl
Baubles, Bling and Insider Information
A customer once called him "Half man, half amazing," and we agree!  Truer words have never been spoken.  His sideways smirks, quick wit and deadly accurate one-liners have been spicing up our staff for over thirty years.  Meet Steve – the genius behind the bench at Joden Jewelers.
With over 7600 bench jewelers employed within the United States, we are blessed to have the very best.  Steve began his training at the tender age of sixteen under the tuteledge of his father, Howard.  A master jeweler himself, there could be no better teacher for the younger Mr. Becker.  Recruited by his father as Christmas help, Steve's skills advanced quickly.  There was no doubt – he was truly gifted. 
Howard Becker worked at Joden long before his son.  Knowing that the skills of the father had indeed been passed on to the son, Joe was quick to whisk Steve away from a competitor.  Initially he was part time, but signed on as a full-time bench jeweler in 1991.  The rest, as they say, is history.  From hand-made rings to award-winning creations, Steve Becker is as intricately woven into the fiber of Joden Jewelers as Joe himself. 
Speaking of those awards, Joe and Steve have proven to be an unbeatable team… together, they have racked up five awards in the last five years.  
Originally fashioned as part of a four-piece suite, these earrings were designed by Joe and handmade by Steve.  Made entirely of platinum, each earring features a cabochon black onyx that has been set with a round diamond. These unique beauties were selected as the winner of the Platinum Innovation Award in 2018.
This necklace, another element of the same suite, won an award in 2019.  The JCK Jewelers Choice Awards recognized this stellar piece as the Best Necklace Design over $10,000.  Both the necklace and the matching earrings have found a new home with a discerning collector. 
The dynamic duo garnered three more accolades in the years to follow…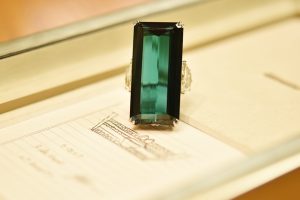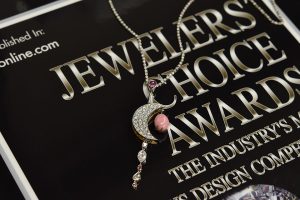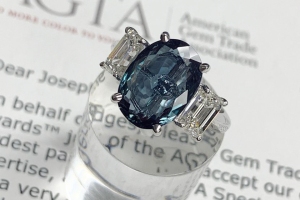 The above pictured trio includes a rare Indicolite Tourmaline ring, a Crescent Moon and Conch Pearl Pendant and a Natural Alexandrite and Diamond Ring.  Each of these three award winners are in the store and available for purchase.  Simply give us a call for more photos, details and pricing.
Steve is a man of few words.  Knowing this, I gave him an advance warning about this blog.  He needed a bit of time to contemplate his favorite piece – but responded immediately when I questioned him about his least favorite.  He actually dissed an entire style as opposed to a singular item…  Steve isn't a fan of invisible set jewelry.  He said "As a jeweler, there's no good way to repair it.  It's an inconvenience waiting to happen."  I selected this pendant from our inventory as an example.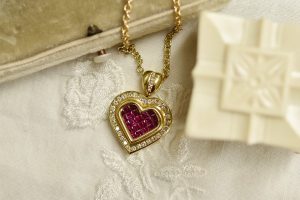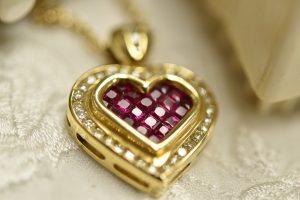 The gem fine rubies that comprise the center section of this 18-karat yellow gold heart are specially cut to fit together with no prongs or other metal structure showing.  The technique is laborious and costly.  If just one stone is lost, it must be hand cut and set by a specialist.  When utilized in a pendant or earrings, the skill is safer than something that sees more wear, like a ring.  If you, like so many others, are captivated by this intriguing style…  you must be willing to care for it properly.  Be sure to have your gemstone jewelry checked twice a year.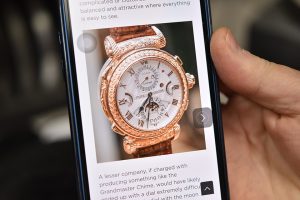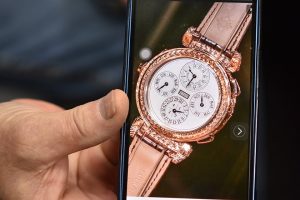 After much contemplation, Steve finally selected his favorite piece, although it isn't something from our inventory.  Earlier today he shared a couple of photos from his phone of this stunning wristwatch by Patek Philippe.  Priced at a cool 2.6 million, this is definitely a dream watch and his current favorite.  Personally, I have to say that MY favorite piece would be the wedding band he designed and created especially for me.  I treasure it.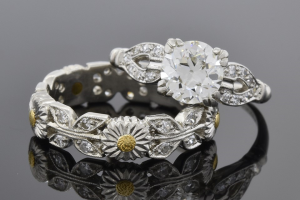 In everything he does, Steve demands perfection…  not from others, but from himself.  His attention to detail is unmatched.  If he had a catchphrase, it would be "A job worth doing is worth doing well".  Steve Becker takes no shortcuts and delights in the fine nuances of his craft.  Never complacent, he can often be seen honing his skills and researching a new approach or idea.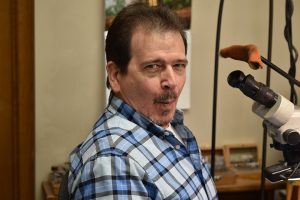 Showcasing his perfect blue steel, this picture of Steve has been cracking me up all day.  Something many don't know about him is that Steve has a wicked sense of humor.  From biting sarcasm to just plain silly, he makes us laugh out loud every day.  Those that know him well are a privileged few.  Steve is a family man who keeps his circle small.  I'm honored to call him more than a co-worker, he's my friend.  
Written by Carrie Martin
Photos by Dana Jerpe