Joden Girl
Baubles, Bling and Joyful Things
Our estate department is on fire lately!  Every time I go digging for treasures, I am striking gold (both literally and figuratively).  This beautiful bauble crossed my desk a couple weeks ago, and I am completely captivated.  It's absolutely everything anyone could want in a modern piece. 
A tantalizing array of colored gemstones decorate all thirty-six inches of this Marco Bicego Paradise necklace.  Handmade in Northern Italy, this kaleidoscope of jewels offers every hue from the softest pink to a deep, earthy green.  Garnet, amethyst, citrine and topaz…  iolite, peridot and tourmaline.  These genuine gems, shaped like rounded triangles are faceted on both the front and back; this unique cut is known as a briolette.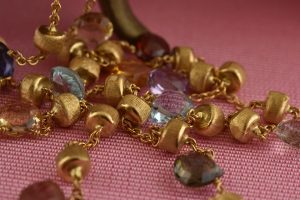 Nestled between each pop of color are two hand-engraved beads.  The outer edge of each one features a soft brushed finish… expertly executed by using an ancient tool known as a bulino or burin.  A handheld tool, the bulino is used to create a series of fine, closely spaced lines.  This finish is just one of the trademark techniques that sets Marco Becigo jewelry apart.  Small segments of delicate chain attach each bead and briolette gem, one to the next – a modern design with whimsical appeal.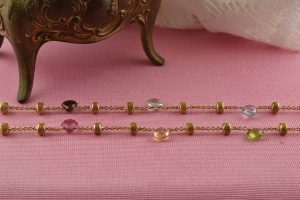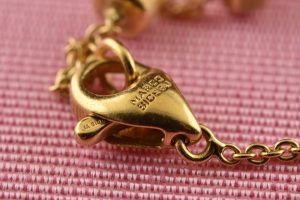 Founded in 2000, Marco Bicego is known for luxurious Italian craftsmanship and contemporary design.  Sold by retail giants like Nordstrom's, Neiman Marcus and Bloomingdale's…  this is one designer that has made his mark and is here to stay.  This particular necklace is part of the Paradise Collection and is still available.  Brand new from their site, this 18 karat yellow gold and mixed gemstone piece sells for $3,870.00.  At Joden, it's part of our estate collection.  In like new condition, this beauty is available now for just $2,800.00!  
Check it out in person in our showroom at 144 South Broad Street, Downtown Grove City. 
"You can go to a museum and look, or come to us and touch."
Written by Carrie Martin
Photos by Dana Jerpe