Joden Girl
Baubles, Bling, and Sun Seekers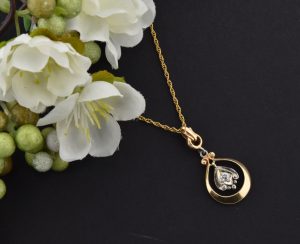 The weatherman is calling for 72 degrees tomorrow.  In February.  In Western Pennsylvania.  What a delicious little reprieve after the long cold days of winter.  It feels like Spring.  Even the flowers think so…  my crocuses have pushed their bright yellow and purple petals up through the cold ground – seeking the sun.  At the end of the day,  I cruise down the road – sun roof open, jacket discarded on the passenger seat.  I, too, am seeking the sun.
I cannot take another day of heavy coats, gloves, snow boots and  hats.   My boys are begging to wear shorts to school.  In my best mom tone, I tell them "No!  It's February!," but a little voice inside wants to let them.  My sweaters have been shoved to the back of the closet in favor of lightweight colorful blouses and soft cotton pants.  Every morning I look longingly at my strappy sandals and little summer dresses.  I'm even ready for "summer" jewelry…  ankle bracelets, toe rings, and delicate little necklaces like these…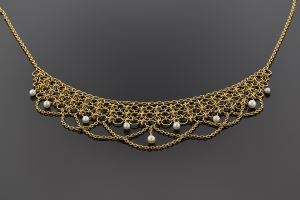 I absolutely love this Victorian bib necklace.  It's incredibly light and feels as smooth as silk against your skin.  Hundreds of individual gold links have been carefully woven together to create this effortless look.  Pair it with a one-shouldered goddess-style dress for the perfect "night out" look, or with your favorite cropped jeans and halter for a casual effect.  It's available now on our website for just $1350.00.
Choose one of these vintage beauties for your 2017 summer wardrobe.  The yellow gold adds warmth and classic style to every outfit.  The twin drop necklace is available on our site – be sure to check it out today.  The second pendant is a steal at $250.00 – but you'll have to come to Joden to get it!  It's a beautiful day for a drive and we're open until 5…
"You can go to our site and look, or come to Joden and touch."
Written by Carrie Martin
Photos by Carrie Martin and Shelly Isacco