Joden Girl
Baubles, Bling, and A Collector's Things
Only the bright yellow color of gold can aptly complement the rich tones of Tiger's Eye.  Made in the 1970's, this oversize elongated ring is an attention grabber.  A singular slice of vertically banded Tiger's Eye positively glows in this 14 karat yellow gold ring from Joe's Special Box.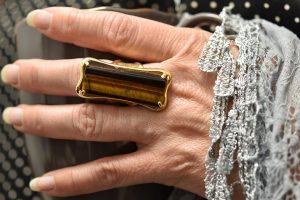 Spanning from knuckle to knuckle on my hand, this ring is impossible to ignore.  The sheer size of the stone will draw your eye.  An optical phenomenon known as chatoyance will hypnotize you.  A band of reflected light moves beneath the surface of this cabochon cut stone…  it's mesmerizing to say the least.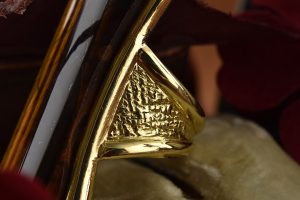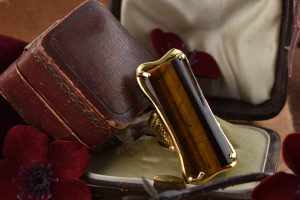 A member of the quartz family, Tiger's Eye is a beautiful stone known for it's gold, yellow, and brown stripes.  The gorgeous color and silky luster combine with the affordability of the gem to make it a popular choice for jewelry lovers everywhere.  The side profile of this vintage beauty has been accented by a crosshatch pattern, bringing a secondary element of interest.  Reasonably priced at $1,580.00, this ring delivers a lot of bang for the buck!
"You can go to a museum and look or come to us and touch."
Written by Carrie Martin
Photos by Dana Jerpe