Joden Girl
Baubles, Bling, and Sweet Things
In the 1970's, Herbert Rosenthal created an iconic design…  a cleverly sculpted bee brooch.  Swarms of yellow gold, gemstone encrusted insects adorned lapels everywhere.  Rosenthal's copyrighted style included golden wings, diamond studded thorax, and bright ruby eyes.  After his signature look exploded onto the scene, jewelers everywhere copied his design.  Not since the days of Napoleon had the bee known such infamy.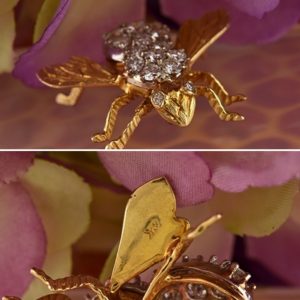 At Joden, our hive is positively buzzing with excitement over these little darlings.  We have several – but these three are my personal favorites.  This all diamond model is classic elegance at it's finest.  Made from 18 karat yellow gold with approximately 1.65 carats of diamonds, this bee dazzles for just $2,380.00.
Not to be outdone, this guy amps up the bling with a two piece lapis lazuli body.  A cabochon oval stone pairs perfectly with a pear-shaped stone to create the thorax of this mid-century bug.  A carat of colorless diamonds accent the softly rounded wings.  This 18 karat gold gem can be yours for just $1275.00.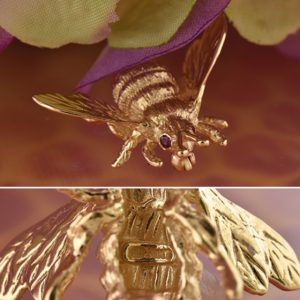 Last, but not least is this industrious critter…  made from 14 karat yellow gold, this artfully carved piece is the runt of the group.  Measuring less than one inch across the wingspan with a pair of glittering ruby eyes, the sting from this bee will only cost you $380.00. 
While it's certainly possible to sport just one of these bees, I prefer to cluster them.  There is strength in numbers…  and a bee colony is the perfect example of that.  Alone, we may not accomplish much…  but together, we can do great things.  
You can go to a museum and look or come to Joden and touch.
Written by Carrie Martin
Photos by Dana Jerpe