Joden Girl
Baubles and Bling with Unbelievable Pricing
This week's piece can be summed up in three little words…  Pretty in Pink.  We're not talking about Molly Ringwald, but rather this stunning proposal ring from Tacori.  That phrase encompasses all that this beauty has to offer.  Made entirely of 18 karat rose gold and set with more than sixty-six round brilliant diamonds – this ring is SO pretty.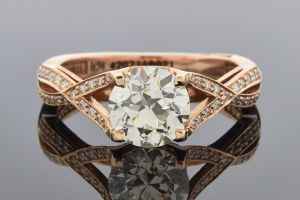 Pop the question to your one and only with an iconic ring from one of the top bridal designers in the world.  Tacori pieces are known for quality – each one is handmade in the United States.  Bright white diamonds are bead set into the symbolic infinity twist band, offering .22 carat of scintillating sparkle.  
The delicate cathedral-style shank forks at the top and cradles the center head.  Shown here from the side, another captivating subtle yet significant detail is showcased.  The heart of the ring, the very spot where the main diamond is held resembles a flower blossom!  This botanical setting comes to life with four diamond set scallops just beneath the center stone.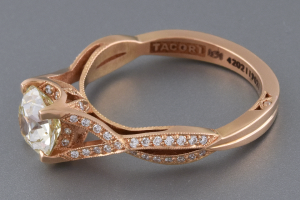 Milgrain edges further enhance the vintage vibe of this gem.  These tiny beads soften each contour and curve of this rose gold beauty.  Three-quarters of the way around the shank you will find Tacori's crescent silhouette.  This half moon arch, combined with the hallmarks inside the ring are the very things that ensure the effortless grace and sophisticated quality that Tacori is known for.
There's no question that the ring itself is critical in choosing the perfect engagement ring – but the most important part is the diamond.  Often compared to snowflakes, every diamond is unique and offers it's own charm.  This one is no exception.  It is accompanied by two separate certificates, one from the International Gemological Institute and one from the Gemological Institute of America.  The round brilliant dazzler weighs exactly 1.30 carats.  It is graded as an "L" color and "VS2" clarity.  The slightly tinted color of the center stone is an ideal complement to the 18 karat rose gold tone of the ring.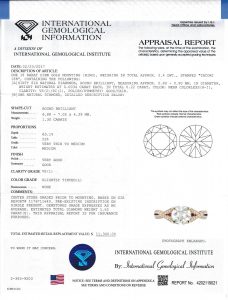 As you can see, the IGI has valued this ring at $11,300.00.  We have had it listed on our site for $9,000.00.  Now, it is a featured product, a Pick of the Week.  As such, we are offering it at the new and unbelievable price of just $7,200!  Start a legacy with someone you love today, available exclusively at Joden Jewelers.
"You can go to a museum and look or come to us and touch."
Written by Carrie Martin
Photos by Dana Jerpe and Shelly Isacco