Joden Girl
Baubles, Bling, and Wedding Rings
This coming August will mark 17 years of marriage for my husband and I.  When we got engaged, he gave me an absolutely charming platinum diamond ring from the 1920's.  It features a round diamond center flanked by curved shoulders set with tiny single cut diamonds…  all accented by a delicate milgrain edge.  I loved it then, I love it still.
When I started looking for a wedding band, I didn't know exactly what I wanted…  however, I knew what I didn't want.  I didn't want a curved or contoured band.  I knew there would be times when I wanted to wear my wedding band by itself and I also knew that a gap or space between my engagement ring and wedding band wouldn't bother me.  Vintage wedding bands were then and still are more difficult to find, and they often are not in wearable condition.  Ultimately, I decided on a custom made platinum and 18 karat yellow gold daisy band.  It's a new ring with vintage flair – the perfect pairing for my engagement ring.  Check out the photo above…
At Joden, we stock hundreds of diamond engagement rings – from delicate Edwardian beauties to sleek modern solitaires.  We need a broad selection of wedding bands to compliment each of these rings.  Some ladies want a classic plain gold band while others are intrigued by the idea of a wedding band that dates back to the 1800's.  We have them all…  curved bands, diamond bands, wide ones and narrow ones, high polish and heavily engraved.  Today, I want to share some of our vintage pieces.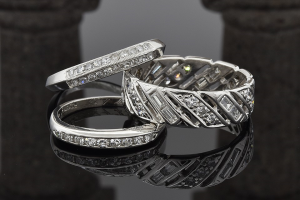 This is a trio of three distinct platinum diamond bands.  Each of them is unique in design – from a simple row of nine channel set diamonds to a sophisticated eternity band set with diagonal rows of both baguette and round diamonds.  Pricing begins at $1400.
This array of beautifully carved and high polish bands is irresistible.  With engraving like this, who needs diamonds?  Two tone or all gold – the choices are dazzling.  Each of these bands is an authentic vintage ring dating back 75 years or more.  Pricing begins at just $300.00. 
Whether you're searching for the ideal wedding band or an uncommon right hand ring, at Joden, the choices are endless.  Go to our site and look, then come to us and touch. 
Written by Carrie Martin
Photos by Shelly Isacco