Joden Girl
Baubles, Bling and Geometric Things
Sleek and modern, this piece sits on my desk like a tiny sculpture.  Bold lines form the outer parallelogram shape.  It's cleverly divided into two portions with the dividing line marked by a fourteen karat white gold band.  A unique pattern continues around the perimeter, a repeating design that features "T" shaped cut-outs.  This intricate detail sits approximately an eighth of an inch from the rectangular top.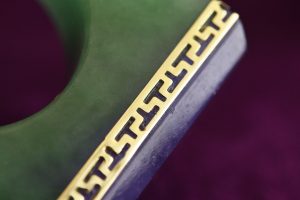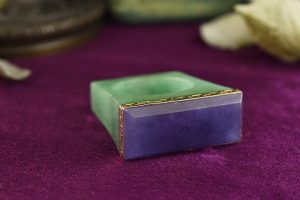 Above this miniature belt is a tablet of lavender jade.  Subtle marbling and a beveled edge bring this soft purple stone to life.  The lower and larger segment is also jade… but the lavender color has segued into a vibrant green.  With such drastic and diverse color change, you would think these are two completely separate stones.  Instead this contemporary gem is carved from a singular piece of jade.  The hues are vivid and complement each other to perfection. Utterly charming, this is more than just a work of art…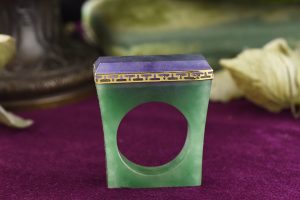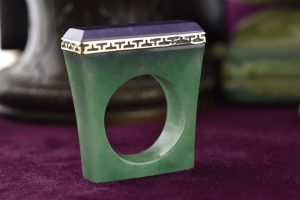 It's a ring!  Made in the 1950's, this dynamic Mid Century Modern design is elegantly eccentric.  Due to its durability and versatility, jade has been used to make everything from weapons to musical instruments.  Ancient civilizations sculpted tools from this silky smooth stone.  The inherent beauty of the mineral made it a natural choice for jewelry.  Ancient Chinese civilizations attributed five virtues to jade… Charity, Rectitude, Wisdom, Courage, and Equity.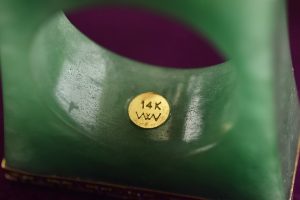 This ring is not for everyone.  The modernist look sets it apart, beckoning to those with an eye for cutting edge style and a sense of adventure.  Unable to be sized, finding the perfect person for this ring could be a bit like the quest of Cinderella's glass slipper.  It measures just over an 8 on the ring mandrel…  too big for any of my fingers.  If it did fit, I would prefer it on an index or middle finger.  Moderately priced at $2,150 – where would you wear it?
Written by Carrie Martin
Photos by Dana Jerpe
"You can go to a museum and look, or come to us and touch."