Joden Girl
Baubles, Bling, and Perfect Gifts
We have been talking about the most popular gifts at Joden for the holidays.  We introduced "Lingerie Pin" necklaces last Christmas and they have been in demand ever since.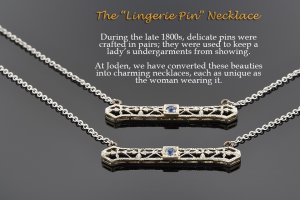 Originally, these were pins, used to hold your chemise straps inside your dress.  Now each one is a lovely necklace that is perfect for every day wear.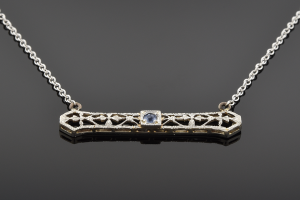 This Art Deco "Lingerie Pin" necklace is made in 14karat white gold, and is set with a tiny sapphire center.  Available now for $250.00.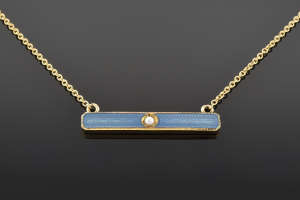 For our yellow gold girls, we have this Art Nouveau "Lingerie Pin" necklace.  It is made from 14 karat gold, features beautiful blue enameling, and has a seed pearl center.  Available now for $250.00.
Each of these necklaces is accompanied by a printed card that details the history of the pin and how the necklaces came to be…  each one as unique as the woman who wears it.
"Go to our site and look, or come to Joden and touch."
Written by Carrie Martin
Photos by Shelly Isacco