Joden Girl
Baubles, Bling and the Latest Things
Found in every hue from soft lilac to rich mulberry, the purple quartz crystal known as amethyst has long been recognized as the birthstone for February.  It's also designated as the ideal gift for the 6th wedding anniversary.  Although the color has always been associated with royalty, amethyst is actually one of the most affordable of all gemstones.  It has been a popular choice of jewelers for hundreds of years.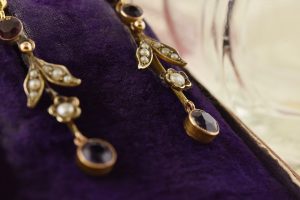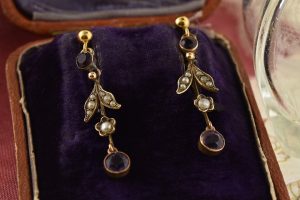 A favorite among Victorians, amethyst was featured in everything from pendants to bracelets, rings…  and of course, earrings like these.  Made in the late 1800's, these simple 9-karat yellow gold earrings are comprised of three individual links that are suspended from a small gold ball.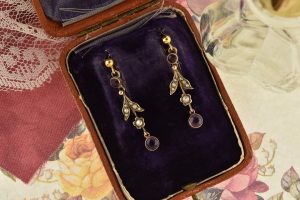 Presenting a medium-purplish shade somewhere between iris and orchid, these round amethyst gems are set within milgrain-edged bezels.  The center links display a graduated series of natural seed pearls within a small leaf shape.  Next, a singular seed pearl is nestled within a tiny five-petaled flower.  This elegant and dainty garland is just over one inch in length.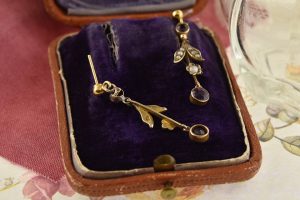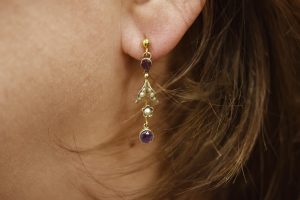 Aged over 140 years old, these beauties aren't perfect.  There is a small bit of lead solder on the back of each one – but luckily it isn't noticeable from the front.  Amethyst is found all over the world, even in the United States.  The Four Peaks mine in the Mazatzal mountains of Phoenix Arizona has produced some very fine dark purple amethyst crystals.  Measuring a 7 on the Mohs scale, it's suitable for daily wear.  These little darlings are priced at just $425 – a steal for true antique earrings…  and just in time for Valentine's Day!  ♥ ♥ ♥
"You can go to a  museum and look, or come to us and touch."
Written by Carrie Martin
Photos by Dana Jerpe