Joden Girl
Baubles, Bling, and Motivating Factors
For more than thirty years, Joden has had an internet presence – www.joden.com.  For the last five, we have had a shop-able website, a Facebook page, this blog, and more recently an Instagram account.  Our site brings customers into the store on an almost daily basis…  they have lists of inventory numbers and can't wait to see each delectable piece.  
That's all fantastic news, no doubt.  There's just a small glitch…  we aren't having as much success with actual online purchases.  Most of our customers come into the store to buy something, they don't usually put it into the cart and hit the buy button.  Which brings me to the point – what motivates you to buy something online – more specifically, a luxury item?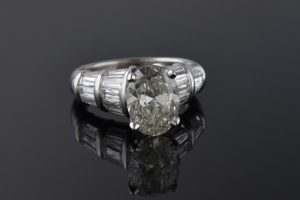 A luxury item like this killer oval diamond ring…  what would inspire you to hit the buy button on this beauty?  Constructed entirely of platinum, this modern ring features an oval brilliant cut diamond as the center stone.  This diamond weighs 3.16 carats.  It sparkles from every angle.  The shoulders of the ring are horizontally set with sixteen baguette cut diamonds that have a combined weight of .96 carat.  It's accompanied by a certificate from the International Gemological Institute of America valuing the ring at $20,050.00.  Who wouldn't want this showstopper?
For the next four days, we are going to conduct an experiment.  This is Friday – day one.  Today we are offering this ring for the unbelievable price of $12,750.00…  that's 40% off the appraised value.  It's available now on our website.  It will be there through Monday (unless some lucky girl or guy buys it)!  Make no mistake, this deal is available for just FOUR DAYS.  This ring can be yours with a simple touch of a button.  
Be sure to stay tuned…  there will be an added twist with every passing day.  Each day, the pot will sweeten.  But will someone buy it before we get to the next day?  Will that someone be you?  By Monday, we will have the answer to our question.  Is price the most motivating factor for purchasing luxury items online?  Or, perhaps, in this world of technological advancement, do our customers still crave the human element when making an important acquisition?  As I said, stay tuned and as always…
"You can go to a museum and look, or come to Joden and touch."
Written by Carrie Martin
Photos by Dana Jerpe