Joden Girl
Baubles, Bling, and Talismanic Things
I was immediately drawn to this ring.  Bearing all the markers of the Art Deco period, this platinum piece positively glows.  I loved the subtle star motif, it was so unique!  I nabbed it right away, knowing that this is exactly the kind of ring that gets the most response on Social Media…  you guys go crazy for diamond bling!  I tucked it into the bag of blog pieces and didn't think another thing about it.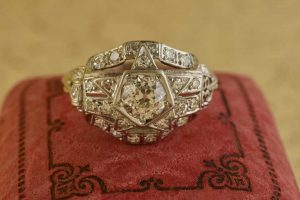 It wasn't until Dana and I started reviewing the blog pieces for the week that she said…  "You know that's an Eastern Star ring, right?"  I didn't know.  I had noticed the star, but somehow missed the tiny gavel on one shoulder and the number 38 on the other.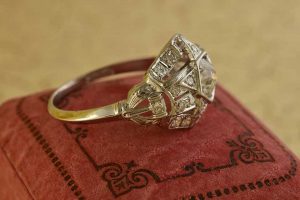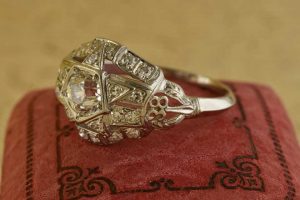 Symbols have been widely utilized in jewelry for hundreds of years.  It's a method of communication…  representing information and ideas that may either be personal or shared.  Often, these emblems link like-minded individuals by providing a visual sign of their common ground and mutual beliefs.  
The Order of the Eastern Star (O.E.S.) is a division of the Masons, founded by Robert Morris in 1850.  As a mason himself, he felt strongly that women would be a huge asset to the organization and would only increase the goodwill and deeds being done by them.  O.E.S. is the largest fraternal order that accepts both men and women with over one million members worldwide.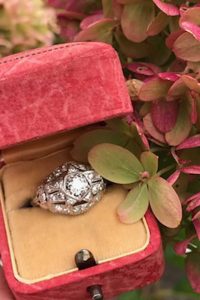 As for the ring, it boasts a gorgeous Old European Cut diamond in the pentagon shaped center of the star.  This diamond weighs approximately .45 carat.  Another twenty-three single-cut diamonds have been artfully set into the five arms of the star and surrounding metalwork; these diamonds have a combined weight of .25 carat.  Delicate milgrain edges and lightly engraved shoulders add Art Deco appeal.  This beauty is available now for just $2,450.00.  
"You can go to a museum and look or come to Joden and touch."
Written by Carrie Martin
Photos by Dana Jerpe