Joden Girl
Baubles and Bling with Unbelievable Pricing
There are definitely some buzzwords when talking about engagement rings.  Perhaps you might be thinking of technical terms like color, clarity, cut and carat weight.  There's no doubt that the Four C's are important factors to consider when buying a diamond, but those aren't the words that we're talking about today.  I want to talk about the b-word… budget. 
An engagement ring is one of the most meaningful purchases of your life.  It's an emotionally motivated investment.  This small band of rocks and metal will forever symbolize the commitment made between you and your significant other.  You may be wondering how to assign a dollar value to this monumental milestone.  While difficult to do, it's incredibly helpful to have a comfort zone in mind before you begin shopping.  In fact,  some find it beneficial to talk with their future fiancé about the budget.  Discussing financial matters can be awkward, however it does ensure that everyone is on the same page.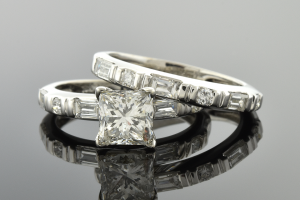 As important as the budget is, there is another "b-word" that is even more essential – balance.  For some, the most paramount factor in selecting a diamond is the color grade.  Others feel that clarity is the greatest consideration.  You might be focused on the setting or even the shape of the stone.  There's no right or wrong answer.  Balancing all of these things will lead to the perfect engagement ring for you.
There's just one more "b-word" that can greatly impact your shopping experience…  bargain.  This blog is called The Pick of the Week.  It's a special edition of Joden Girl that is exclusively dedicated to pieces that have been on our site for awhile but haven't sold.   This bridal set is crafted from 18 karat white gold.  A classic two-piece set, it has a lot to offer.  Sitting center stage is a princess cut diamond that weighs 1.51 carats.  Glittering from every angle, this diamond has a color grade of I-J and a clarity grade of I1.  The two rings feature an alternating pattern of round and baguette cut diamonds.  These thirteen stones add an additional .91 carat of bling to this scintillating set.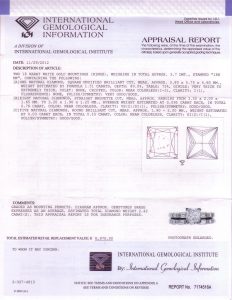 With an appraised value of $8,970.00 – this pair has been featured on joden.com for $8,800.00.  Not a bad price for 2.42 carats of total diamond weight, right?  This week, we are offering it for an insane price.  You can purchase BOTH rings for the steal-of-a-deal price of just $4,900.00!  This Pick of the Week is now the perfect balance of budget and bargain.  Don't hesitate – it won't last long.  
Written by Carrie Martin
Photos by Dana Jerpe and Shelly Isacco