Joden Girl
Baubles, Bling and Lasting Things
"The Bvlgari brand is emblematic of excellence, having ensured, for more than 130 years, the absolute value of its creations, in the interest of its customers."
From its beginnings in 1884, with visionary founder Sotirio Bvlgari at the helm, the now famous brand became synonymous with exquisite craftsmanship and extraordinary creations.  Always paying homage to the Italian roots of the company, the Bvlgari label has built an empire on contemporary cutting edge design.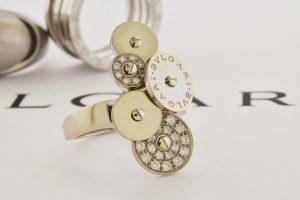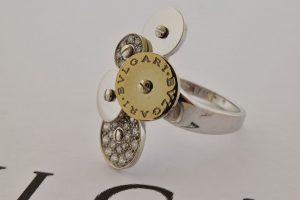 From the Cicladi Collection, this whimsical style is celebrated for the overlapping circles – each one turning on its own… independently of the others.  This luxurious fidget spinner is made from 18 karat white gold.  Two of the discs are pavé set with round brilliant diamonds, twenty-eight in all.  With a total weight of .20 carat, the diamonds add dimension and shine to the mirror-like finish of the ring.  It's impossible to wear the ring without twirling the circles.  Playful and fun, it's available in our estate department for just $1,200.00.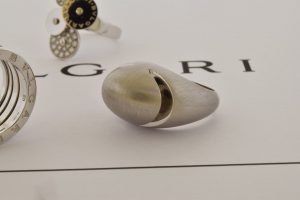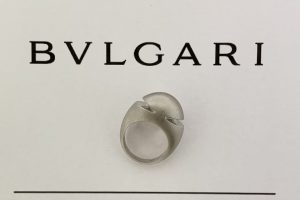 Dubbed the Cabochon Dome ring for it's avant-garde appearance, this sculptural piece makes a bold statement.  A smooth satin texture softens the industrial vibe.  I love how the Bvlgari logo has been perfectly etched inside.  This simple detail is the very thing that makes this brand stand out.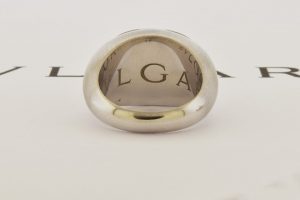 It rises gracefully off the finger with a double cut-out motif on each side.  These slivers slice into the ring, nearly touching in the center and are finished inside to a high-polish sheen.  Innovative design meets eclectic flair for just $1,200.00.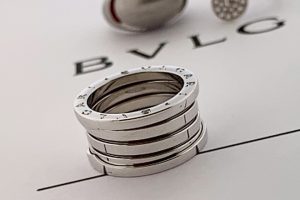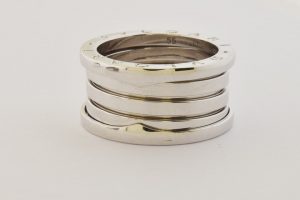 Always drawing inspiration from their historic heritage, this piece is a tribute to the Coloseum in Rome.  Called the B.Zero 1 ring, the outside swirls around in a modern imitation of the iconic walls of the Colosseum.  Made entirely of 18 karat white gold, it also features a bit of motion that is ultra cool.  When pushed from the sides, the ring compresses and then springs back!  Still current on the Bvlgari website, it sells new for $2,530.00.  This one, finger size 7, is available here for only $1,500.00!  
If you love fine jewelry with a modernist flair, then Bvlgari is the designer for you.  These contemporary styles on the cutting edge of fashion will bring a bit of luxury to your life at a price that makes sense.  
"You can go to a museum and look or come to us and touch."
Written by Carrie Martin
Photos by Dana Jerpe