Joden Girl
Baubles, Bling and Celebratory Things
After over a year of pandemic restrictions, we are finally starting to reap the benefits of those efforts.  Restaurants, bars and local establishments will soon be enjoying the loosened restrictions and patrons are looking forward to dinners out and celebratory cocktails.  It certainly feels like a champagne worthy moment!
If you will be joining in the festivities and perhaps going out in the coming weeks, we have the perfect accessory.  Offering two distinct looks in one, these platinum beauties are a surefire hit.  Dubbed "Day to Night" earrings, this style will take you from casual charm to scintillating swagger with one quick change.  
Add a hint of sparkle to your day with these pavé diamond balls.  No bigger than a small pea, these tiny studs are ideal for work, running errands, or just hanging out at home.  I love the size – it's just right!  
When your evening plans extend beyond the family room…  just add these elegant topaz drops!  The transition is simple, a small ring of platinum slides over the post of the diamond ball.  Completely comfortable, these dangles are absolutely dazzling.  Shimmering with a peachy-pink glow are a killer pair of tear-dropped shaped Imperial Topaz gemstones.  Often called precious topaz, these two stones have a combined weight of 6.00 carats.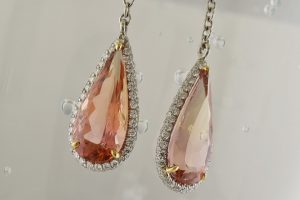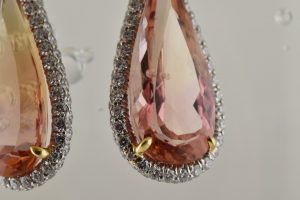 Dozens of fully faceted round brilliant diamonds cover the earrings – from the top of the studs to the softly-rounded bottom of the topaz – totaling 1.00 carat.  Even the outer edges are bejeweled.  The honey colored topaz swing enchantingly from over an inch of cable link chain…  the movement is key and gives these earrings a whimsical feel.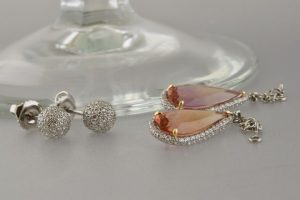 When the evening ends, simply slip the drops off the posts and tuck them into your jewelry box for another night.  These amazing earrings, with two stylish looks in one, are available now for just $5,250.00.  
"You can go to a museum and look or come to us and touch."
Written by Carrie Martin
Photos by Dana Jerpe