Joden Girl
Baubles, Bling, and Classic Things
Looking out the front window from my desk, the sun is blazing in the November sky.  People are walking downtown in short sleeves, they're riding in their cars with the windows down.  It's almost impossible to believe that the holidays are right around the corner, but nevertheless – it's true.  The Christmas shopping season is upon us.  Here, at Joden, the last week has been filled with early birds…  those customers who know exactly what they want and are here to get it.
The remaining four weeks will bring many more customers.  Most are hoping to be inspired by the unique treasures that Joden is known for – seed pearl trimmed Victorian rings, delicate lingerie necklaces, and Art Deco gems of every kind.
During the last couple days of shopping, customers will be here for the classics – diamond studs, gold necklaces, sapphire rings…  and the inevitable – hearts.  Diamond hearts, ruby hearts, and heart lockets.  Hearts, hearts, hearts!  Over the years, I have seen hundreds of pieces of heart jewelry; each time I am left with the same feeling.  Blah.  I don't like hearts.  They just aren't my thing.  Hearts strike me as ordinary.  Nothing special.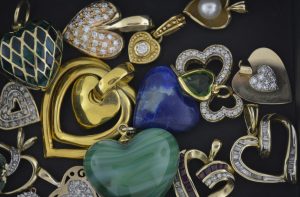 Let me be the first to say it.  I love it when Joden proves me wrong!  Recently, we acquired this wonderful heart-shaped locket, circa 1830.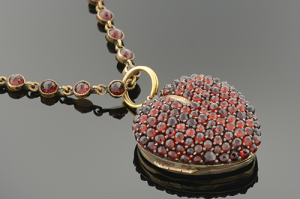 This piece was handcrafted at the end of the Georgian Period and the beginning of the Victorian Period.  It's encrusted with over one hundred rose cut garnets and is accented by a sixteen inch necklace that is comprised of fifty-six bezel set garnets.
Opening the locket reveals a piece of yellowed silk still contained inside.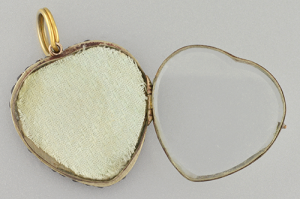 I love every single aspect of this piece…  it is absolutely charming.  At nearly 200 years old, this necklace would be the perfect Christmas gift for anyone…  even a Joden Girl.
You can go to our website and look, or you can come to Joden and touch.
Written by Carrie Martin