Joden Girl
Baubles, Bling, and Curvaceous Things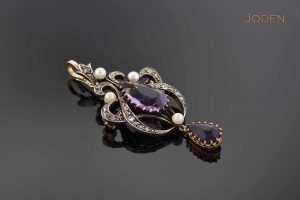 Did you hear that?  Sounded like a long, slow whistle…  and no wonder.  This beauty has curves in all the right places.  Add in a perfect teardrop bottom, and it's simply irresistible!  
Made in classic Victorian style with silver layered over buttery yellow gold, this amethyst piece is pulling double duty – it's a pendant AND a pin.  I love multipurpose jewels!  
The scroll work starts at the top with a little curlicue, then slopes down and flairs out with a secondary flourish in the background.  Each one of these curves features an oxidized silver top that is artfully set with tiny rose cut diamonds.  Two pear-shaped amethysts deliver a glorious splash of color to the center section, while the addition of four small round pearls bring it all together in a swirl of Victorian vim!  Modestly priced at $2,610 – this will quickly become your statement piece.  
Go to our site and look, then come to Joden and touch.
Written by Carrie Martin
Photos by Shelly Isacco