Joden Girl
Baubles, Bling, and a Cross Ring
It's Good Friday.  For all of Christianity, this is the anniversary of the crucifixion of Christ.  The ultimate sacrifice – Jesus was tortured then hung on a large cross.  According to legend, the cross was made from a dogwood tree.  Contrary to that, other sources claim that the true cross was made from three types of wood:  cedar, pine, and cypress.  No matter what it was made of, there is no question that for the nearly 2000 years since the cross has become the principal symbol of the Christian faith.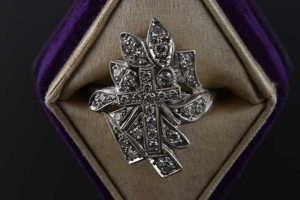 At first glance, I thought this was just a diamond cluster ring.  Only upon closer inspection did I see the cross in the center of the piece.  Made entirely of 14 karat white gold in the 1960s, this ring is perhaps one of the most unique representations I have seen.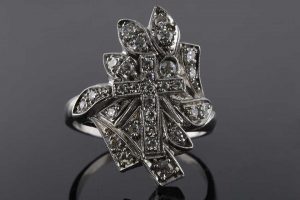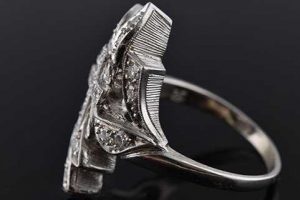 The cross is one of the most widely used symbols in jewelry, but more often than not, it is a pendant.  Silver or gold, enamel or mosaic… we have hundreds of them.  This ring, however, is much more unusual.  It's a free-form burst, complete with thirty single cut diamonds that sparkle and shine from every angle.  These diamonds have a combined total weight of approximately 1.00 carat and are fine quality – bright and eye clean.  Each line and curve features a millegrain edge (tiny little beads of metal) creating a decidedly Art Deco feel.  It's quite lovely and moderately priced at $1,750.00.
"I will cling to the old rugged cross and exchange it someday for a crown."
At Joden, we strive to choose pieces that are more than rocks and metal.  Each one is hand selected with an eye for style and a passion for quality.  We hope you enjoy them as much as we enjoy selecting them for you.
Written by Carrie Martin
Photos by Dana Jerpe