Joden Girl
Baubles, Bling, and Re-Invented Things
My hubby is a hard-working blue collar guy.  His uniform pants appear in the laundry, covered in the grease and oil that fill his days.  It's rare that he wears a tie, usually only for weddings and funerals.  This has become a trend in today's world.  Casual work wear has become more common, while suits and ties get pushed to the back of the closet.  Along with those suits went all the accessories…  cuff links, tie tacks, and tie bars. 
At Joden, we only sell a handful of these items – the others tend to sit here, sometimes for years.  One piece comes to mind – a vintage 18 karat yellow gold tie bar, the kind with the big alligator clip on the back.  Beautifully made in the 1970s, any guy would have been proud to wear this gem.  For the last couple of years, it has been passed over time and again for more modern choices.  BUT, it did catch my attention…
I knew the crisp clean line of diamonds would make an ideal bar necklace – a quite nice one!  These ten round brilliant sparklers have a combined total weight of 1.00 carat.  After a brief discussion with Joe, I sourced the perfect 18 karat gold chain and went to visit Terry (one of our expert bench jewelers).  And voilà!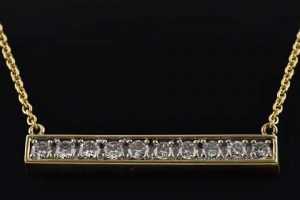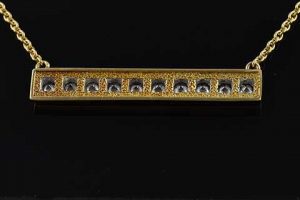 It's fantastic, oh-so-wearable, and just in time for Mother's Day!  I'm crazy over the pure simplicity of it; no fuss no frills, just warm yellow gold and dazzling diamonds.  What more could any woman want?  Priced at $1,625, this beauty is available now in our Facebook store.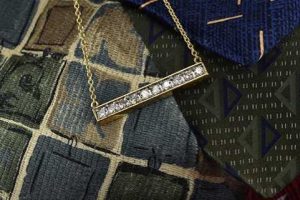 You can go to a museum and look or come to us and touch.
Written by Carrie Martin
Photos by Dana Jerpe.