Joden Girl
Baubles, Bling and Destined Things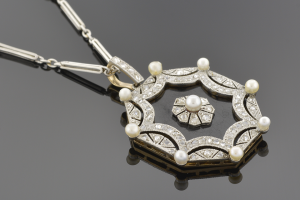 Last week I introduced a dazzling pair of Edwardian cufflinks…  check them out.  Our Facebook Page is featuring a heated debate about those very cufflinks.  I'm asking all my readers this question "Should we keep them as they are, or should we convert them to earrings?"  Be sure to pop over there and cast your vote!  
In my quest to find the perfect piece for this week's Joden Girl, I stumbled across this beauty…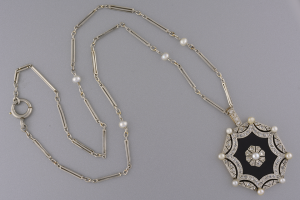 Handmade in classic Edwardian style from 14 karat yellow gold and platinum, this pendant is everything!  Made like a delicious layer cake, here's how it stacks up.  A buttery yellow gold framework creates the cake base; it's frosted with a cool sheet of platinum.  Nestled inside is the filling – a perfect oval of black onyx.  Next, the platinum is interspersed with 107 rose cut diamonds, providing an element of sparkle, and finally, a light sprinkling of 13 natural pearls.  Priced at $7,650, and worth every penny.
Look at how perfectly it pairs with the cufflinks!  If that pendant is the cake, then surely these cufflinks are the ice cream!  You can't have one without the other.  
Don't forget to vote on the Facebook debate (Cufflinks or Earrings?) and stay tuned to see how it all shakes out. 
You can go to Facebook and vote, then come to Joden and touch.
Written by Carrie Martin
Photos by Shelly Isacco