Joden Girl
Baubles, Bling, and A Collector's Things
The ultimate symbol of resurrection, the butterfly brings hope to everyone who sees it.  This stunning creature is able to endure extreme change and emerge stronger and even more beautiful than it was before.  Perhaps the most iconic color pattern belongs to the monarch… the bold combination of orange, white, and black is enchanting.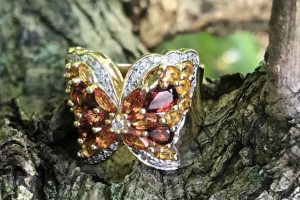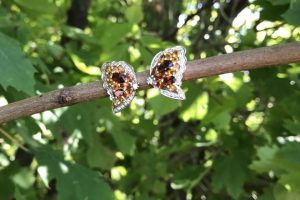 This matching ring and earring suite has been with us for awhile, waiting for the perfect home.  A complex blending of garnets, orange and yellow sapphires, and diamonds create a monarch-like look.  The ring showcases the butterfly form in full glory, while the earring is made in profile – a unique duo.  These warm, autumnal colors combine perfectly with the rich tone of 14 karat yellow gold.  
Pear-shapes, marquise and round stones fit together like the pieces of a jigsaw puzzle.  The two items have been certified by the International Gemological Institute of America and have a combined value of $ 4,380.  We are offering them today for a fraction of the price…  take both pieces home today for just $2,600!  
Available only from Joe's Special Box. 
Written by Carrie Martin
Photos by Dane Jerpe