Joden Girl
Baubles, Bling and Distinctive Adornment
Upon moving to the United States at just 16, Luna Felix immediately submerged herself in the culture of New York while simultaneously bringing her unique sense of style to the city.  Her fresh perspective on fashion and accessories garnered attention and had Luna presenting her own line at retail giants like Lord and Taylor, Neiman Marcus and Bloomingdales.  
Now recognized all over the world for pushing the edge of design, every piece of Luna Felix jewelry is a true original.  A kaleidoscope of gemstones bring bold color to high karat gold and the Old World techniques that she is known for.  The unconventional aesthetic of Luna Felix jewelry is unmistakable and unmatched.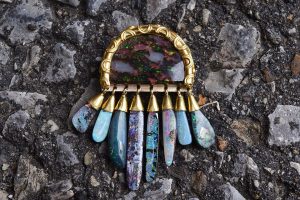 I have been inexplicably drawn to this pendant – the shape reminds me of all things celestial.  To me, it is a sunrise, a cloud and a rainbow all at the same time.  Handcrafted from 18 and 22 karat yellow gold, the framework features a half-circle pattern made with fine wire work in relief.  This labor intensive art adds depth and dimension.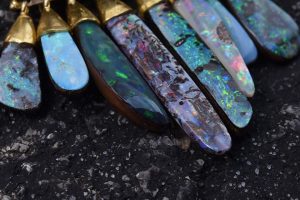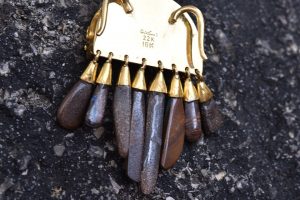 The fringe-like skirt features a graduated series of eight boulder opal fingers.  Boulder opal is an exceptional form of the gemstone in which it grows and settles into the fissures of a host rock.  Most of these extraordinary gems are from Austailia, and found on brown ironstone.  An awe-inspiring array of bright and brilliant colors abound – every shade of blue and green with bold pops of red and orange.  The unusual setting style allows you to see the gemstone, the host rock and the seam where they have become one.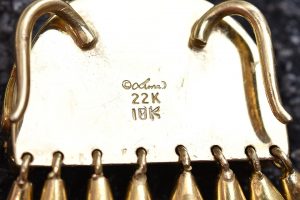 For hundreds of years, our society has been formed and stretched by those rare individuals who live on the fringe.  They don't fit in to mainstream culture, but rather push boundaries and create new ideas in all aspects of life.  Luna Felix is one such pioneer in the jewelry world.  Her avant-garde treasures are highly collectible.  Make this beauty yours for just $2,750.00.  
Written by Carrie Martin
Photos by Dana Jerpe