Joden Girl
Baubles, Bling, and Floral Rings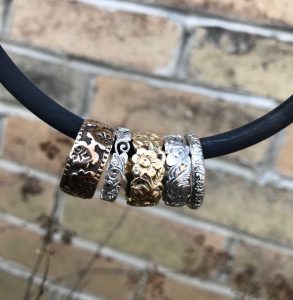 I cannot resist a great floral band…  old or new, white or yellow, narrow or wide.  I love them all, and our customers do, too!  Vintage variations are more sought out than their modern counterparts, but both are popular choices.  This array features five beauties including a Mid Victorian, an Art Nouveau, an Edwardian, an Art Deco, and a modern gem.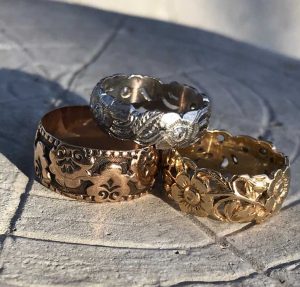 Check out each one in all its glory.  First is this rosy 9 karat gold band showcasing a pattern of modified fleur-de-lis continuing all the way around.  Although the piece is wide, it's not thick, making it extremely comfortable to wear.  Made during the 1860's, this antique band is priced at $500.
Next is a dainty platinum charmer from the 1930s.  A never-ending circle is created from entwined five-petaled flowers, leaves, and vines.  Each element has been heavily engraved to further enhance the lifelike feel of the piece.  Set into the center of each flower is a European Cut diamond adding the perfect amount of sparkle.  Priced at $1700, this band is available on our website now.
Third, is my personal favorite of the bunch.  Made in true Art Nouveau style with bold flowers. tiny leaves, and tenderlings ready to bloom – this 14 karat yellow gold stunner makes a statement.  It's a steal for just $700.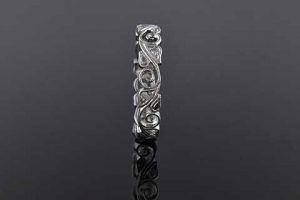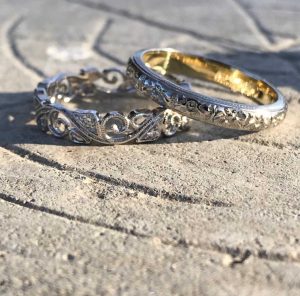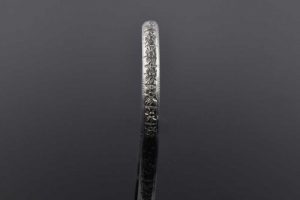 Designer "Beverley K" combined a vintage vine vibe with modern technology to create this 18 karat white gold vision.  Every single leaf and stem on this ring features millegrain beading.  This old world technique brings a decidedly Art Deco feel to this brand new band.  Available now for $1375.
Wrapping up our band bonanza is an Edwardian dream.  A rich yellow gold core nestled inside a platinum shell is enhanced with elaborate engraving.  A ring of orange blossoms brings a botanical feel to this turn of the century piece.  The narrowness of the band enables it to be paired with an engagement ring or stacked with all your favorites.  Buy it now for just $800.
If you're like me, and you're crazy for these bands, give us a call or stop in!  I'd love to help you choose your next treasure.
"You can go to a museum and look, or come to us and touch."
Written by Carrie Martin
Photos by Dana Jerpe