Joden Girl
Baubles, Bling, and 20th Century Things
At Joden, we have a virtual plethora of vintage gems…  everything from Georgian to Mid-Century Modern.  But there is no doubt that the Art Deco pieces inspire the most "oohs and aahs".   From the architectural lines to the unmatched style, the jewelry from the 1920's is decadent and delicious.
One of the most popular designs was a deceptively simple bracelet.  Perhaps you've heard of it…  a block bracelet, or box bracelet.  Some call it a four by four or even a five by five, depending on the piece.  Each of these monikers refer to the visual appearance, an alternating series of four round diamonds and then four sapphires (more often than not, these blue beauties were synthetic).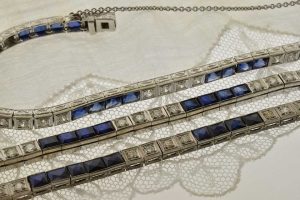 Currently the Joden inventory boasts three of these charmers.  Slight but distinct variances set them apart from each of the others.  We have one crafted from platinum, one from 18 karat white gold, and one from 14 karat white gold.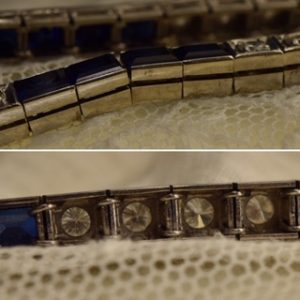 Here are detailed images of the white gold versions, first the 14 karat and then the 18 karat.  The craftsmanship of each is superb.  First, let's review the finer points of the 14 karat one – a full seven inches, set with over 1.60 carats of round diamonds.  The edge is sleek and shiny with no additional ornamentation.  It's priced right at $3,325.00.  Now for the 18 karat…  it's been set with 1.00 carat of bright white diamonds, each one individually surrounded by a double milgrain edge.  The side showcases a singular element that sets it apart, two tiny beaded parallel lines that run the entire length of the bracelet.  It's available now for just $3,175.00.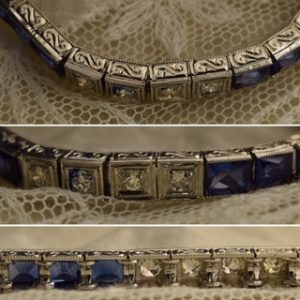 Finally, we have the platinum piece…  the star of the show.  I love the stylized s-shaped swirl engraved on the edges of each link…  it really gives it that extra something special.  Mimicking the 18 karat gold bracelet, each diamond in this one is set within a pair of milgrain borders.  This detail is oh-so Art Deco, adding a little pizzazz to the 1.00 carat of bling.  While each of the bracelets is in excellent condition, this one positively screams quality.  It just feels good and is priced at $4,400.00.
Stack one or more of these 20th-century dazzlers on your wrist for a bit of vintage glam.  For additional details, drop me a line (carrie@joden.com) or stop by our showroom.  You won't be disappointed. 
"You can go to a museum and look, or come to Joden and touch."
Written by Carrie Martin
Photos by Dana Jerpe