Joden Girl
Baubles, Bling and 1920's Thing
It was an era that celebrated the beauty of black and white.  The 1920's brought us some of the very best things in this classic color combination…  from the first electronic television to some of the finest jewelry that the Art Deco period had to offer.  Philo Farnsworth introduced a unique invention that scanned images with a beam of electrons…  the predecessor to modern television.  Albeit primitive, this 21-year old entrepreneur opened an entirely new world that most had never dreamed of.  American jewelers were also presenting a new style – one that balanced the elegance of the previous years with a whisper of the grandeur yet to come.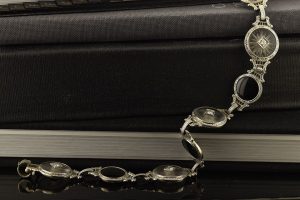 The Art Deco era was one of the few times that Americans produced jewelry that was among the finest in the world.  Although some characteristics of Edwardian jewelry were beginning to fade, some stayed strong in the early 1920's.  Pre-1925, the trend remained feminine and graceful…  like this lovely bracelet.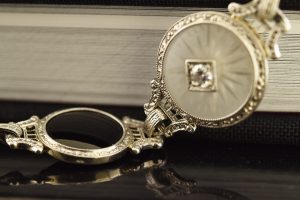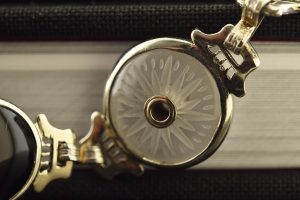 Black and white was a favorite color scheme of the era –  onyx combines perfectly with diamonds and/or crystal to achieve this timeless style.  Here, a 14 karat white gold frame is topped with a thin platinum layer.  Eight round links of alternating sizes create the subtle appeal of this beauty.  Frosted and carved rock crystal rotates with onyx centers; each is surrounded by intricately engraved bezels.  Beaded milgrain borders soften the look.  Four small diamonds add the tiniest hint of sparkle…  each one is set in the center of the crystal links.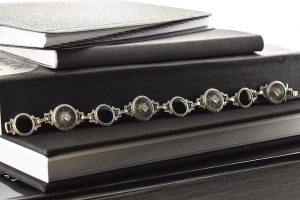 This early Art Deco bit of arm candy is in pristine condition.  It's the ideal addition to your jewelry box..  it can be worn daily.  Strong enough to stand alone but still able to be stacked with one or two of your go-to bracelets, this classic beauty is too good to pass up.  It's moderately priced at $2,840.00.  If you're a fan of black and white pieces from the Art Deco era, you're among the many.  As soon as we get one of these gems, it flies out the door!  Don't let this one pass you by.
"You can go to a museum and look, or come to us and touch."
Written by Carrie Martin
Photos by Dana Jerpe