Joden Girl
Baubles, Bling, and A Collector's Things
Lately, my partner-in-crime and I have been really looking at the jewelry… studying it.  Dana is my work bestie and the one who takes all the stunning photos for the blog, the website, and our social media.  Together we are an unbeatable team, a dynamic duo to be sure.  Since we have taken on the monumental task of manning the internet portion of Joden Jewelers, we find ourselves regarding each piece in a new light.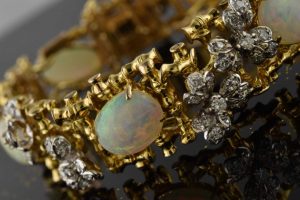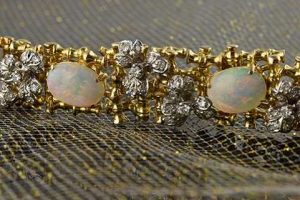 Like this bracelet, for example.  Once, I would have passed it over without much more than a cursory glance.  But today, I took it out of the bag and draped it across my wrist.  I louped the design.  Then I handed it to Dana, asking "What about this?"  I watched her repeat the same process I had just gone through.  She turned it over carefully in her hand, taking in the vivid white opals and the bright diamond trim and then responded with a resounding "Maybe!".  
You see, we are in an endless search to discover the pieces that not only speak to us, but also to you.  In the seven short months that we have been working on this joint venture, we have had marginal success and a few bright shining moments of greatness.  We are both striving for more.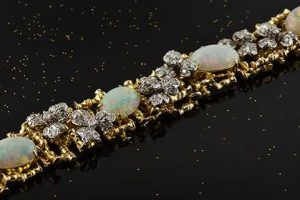 So here we are with a 1970's 14 karat two tone bracelet, found in Joe's Special Box.  What's so "special" about this chunky (and a bit funky) piece?  It was constructed with a woven bamboo frame.  This yellow gold structure has been enhanced with six oval opals that glimmer with orange and green fire from within.  Twelve white gold diamond flowers adorn the spaces between the opals.  Priced right at $4300, I have just one question for you.  Is it hot or not?  We anxiously await your response.  Let us know what you think via email…
carrie@joden.com or dana@joden.com
Written by Carrie Martin
Photos by Dana Jerpe